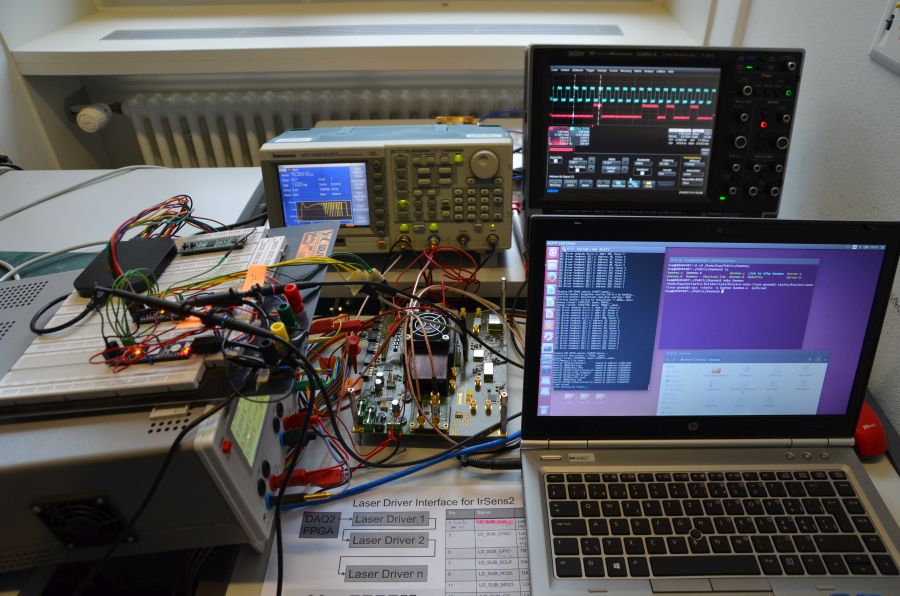 We have expertise in LabVIEW, FPGA and Microcontroller software engineering, multifunction data ac-quisition, motor control, device and wireless communication, as well as image acquisition and pro-cessing.

We offer support in selecting hardware components or develop specialized hardware in cooperation with the electronics development team.
Types of activities
LabVIEW software development (DAQ, Vision, Motion, RT, FPGA …)

FPGA software development (VHDL)

Programming of Embedded Systems (C/C++, Micropython, Python …)

Support of selecting hardware components for measurement and automation tasks (Motor stages, Cameras, DAQ systems, Sensors ...)

Creating LabVIEW device drivers for 3rd party hardware components (DLL, .NET, ActiveX ...)

Device communication (Serial, Ethernet, CAN, GPIB, I2C, SPI ...)

Wireless protocols (Bluetooth, WiFi …)

Image acquisition & processing

Mobile Apps (Android, iOS)
Projects (selection)
DIMES, Advanced integrated testing methods to detect cracks and delamination as a structural health monitoring system for aircraft.
EmpAIR, CO

2

monitoring

ESCO, universal Empa Stepper Controller

A universal interface to stepper motors and optional accessories with a simple interface.

SAM / Torso, Physiological measurements with a heated, sweating and agile manikin.

TOFI, Tongue fitness trainer for snoring therapy
ZH-Exhalomics (IrSens), A compact optical instrument to detect and assess the relevance of potential biomarkers for asthma in young children's exhaled breath.