Former radio transmitter site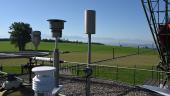 Oct 26, 2016 | A new measurement station for air pollution monitoring has been opened in Beromünster, Canton Lucerne, the first since 1990. The measurement station, operated by Empa and the Swiss Federal Office for the Environment is located on the site of the form...
Nanostructures against antibiotic resistance
Oct 17, 2016 | Several peptides have an antibacterial effect
–
but they are broken down in the human body too quickly to exert this effect. Empa researchers have now succee...
Nobel Prize in Chemistry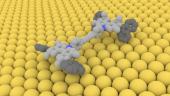 Oct 6, 2016 | Empa is delighted to acknowledge the awarding of the Nobel Prize in Chemistry 2016 to Bernard L. Feringa, Fraser Stoddart and Jean-Pierre Sauvage – as it made a major contribution in 2011 to a research project carried out by Bernard L. Feringa.

NEST is a living lab aimed at accelerating the innovation process in the building and energy sector. More than 90 partners from research, industry and the public sector will be joining forces at NEST to develop sustainable technologies, materials and systems, and test them under real conditions. The latest issue of EmpaQuarterly is focused entirely on that prestigious project.


Our newsletter helps you keep abreast of current research and development projects and reports on new technologies and innovations born in Empa's laboratories. It also highlights special technological and analytical services, which Empa provides, as well as technology offers for licencing. Moreover, it features upcoming events, portraits of Empa staff and new video podcasts.

Research
From Research to Innovation
Empa – The Place where Innovation Starts
Cooperations

Whether it be a bilateral collaboration on a specific research project, as partner in a multi-institutional network or consortium, through our high-end technical and analytical services, a research mandate or in a strategic partnership – there are numerous different ways and possibilities to cooperate with Empa.
All of them, however, have the same goal: to transform the latest findings from research into marketable innovations – in close cooperation with our partners from industry.
Feel free to get in touch with us and we will find a cooperation modell that «fits the bill».
Empa

Materials & Technology
for a Sustainable Future
Empa conducts cutting-edge materials and technology research, generating interdisciplinary solutions to major challenges faced by industry, and creates the necessary scientific basis to ensure that our society develops in a sustainable manner. As part of the ETH Domain, Empa is committed to excellence in all its activities.