On to a third term!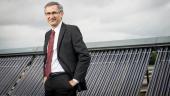 Feb 22, 2017 | Upon application of the ETH Board, on 22 February 2017 the Federal Council reappointed Empa CEO Gian-Luca Bona for another four year-period. His third term of office will start on 1 September 2017.
Putting the spotlight on Swiss clean technologies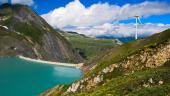 Feb 22, 2017 | Six years after it first appeared, the second edition of the Swiss Cleantech Report was unveiled today at a press conference in Zurich. It highlights Switzerland's USPs in the field of cleantech, and presents a wide range of technologies, products an...
Empa-PSU team studies mobility of single molecule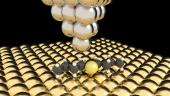 Feb 14, 2017 | A scanning tunneling microscope (STM), used to study changes in the shape of a single molecule at the atomic scale, impacts the ability of that molecule to make these changes; the entropy of the molecule is changed and, in turn, can be measured. The ...
Research
From Research to Innovation
Empa – The Place where Innovation Starts
Cooperations

Whether it be a bilateral collaboration on a specific research project, as partner in a multi-institutional network or consortium, through our high-end technical and analytical services, a research mandate or in a strategic partnership – there are numerous different ways and possibilities to cooperate with Empa.
All of them, however, have the same goal: to transform the latest findings from research into marketable innovations – in close cooperation with our partners from industry.
Feel free to get in touch with us and we will find a cooperation modell that «fits the bill».
Empa

Materials & Technology
for a Sustainable Future
Empa conducts cutting-edge materials and technology research, generating interdisciplinary solutions to major challenges faced by industry, and creates the necessary scientific basis to ensure that our society develops in a sustainable manner. As part of the ETH Domain, Empa is committed to excellence in all its activities.