Ozon und Sommersmog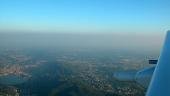 Aug 23, 2016 | Der Ozongehalt der Luft hat in der Schweiz trotz erfolgreicher Massnahmen zur Luftreinhaltung im Verlauf der letzten Jahre nur wenig abgenommen. Das besagen die Auswertungen von langjährigen Messreihen des Nationalen Beobachtungsnetzes für Luftfremds...
Tag der offenen (Labor-)Tür in St. Gallen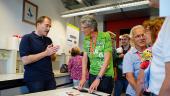 Aug 22, 2016 | Seit 20 Jahren entwickelt die Empa im repräsentativen Gebäude im St. Galler «Moos» Materialien und Technologien für die Zukunft. Grund genug, um zu feiern und die Türen für das Publikum zu öffnen. Knapp 4000 Personen folgten der Einladung und liessen...
Future mobility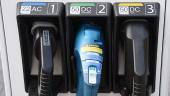 Aug 18, 2016 | On 18 August 2016 the municipality of St Gallen commissioned the first public rapid e-charging station, located on the Empa premises. This gives the drivers of electric vehicles the ability to recharge their cars within just a few minutes.

NEST is a living lab aimed at accelerating the innovation process in the building and energy sector. More than 90 partners from research, industry and the public sector will be joining forces at NEST to develop sustainable technologies, materials and systems, and test them under real conditions. The latest issue of EmpaQuarterly is focused entirely on that prestigious project.


Our newsletter helps you keep abreast of current research and development projects and reports on new technologies and innovations born in Empa's laboratories. It also highlights special technological and analytical services, which Empa provides, as well as technology offers for licencing. Moreover, it features upcoming events, portraits of Empa staff and new video podcasts.

Research
From Research to Innovation
Empa – The Place where Innovation Starts
Cooperations

Whether it be a bilateral collaboration on a specific research project, as partner in a multi-institutional network or consortium, through our high-end technical and analytical services, a research mandate or in a strategic partnership – there are numerous different ways and possibilities to cooperate with Empa.
All of them, however, have the same goal: to transform the latest findings from research into marketable innovations – in close cooperation with our partners from industry.
Feel free to get in touch with us and we will find a cooperation modell that «fits the bill».
Empa

Materials & Technology
for a Sustainable Future
Empa conducts cutting-edge materials and technology research, generating interdisciplinary solutions to major challenges faced by industry, and creates the necessary scientific basis to ensure that our society develops in a sustainable manner. As part of the ETH Domain, Empa is committed to excellence in all its activities.