News
Deciphering cloud nucleation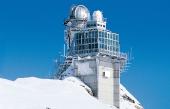 May 25, 2016 |
An international team of researchers led by the Paul Scherrer Institute (PSI) and with the participation of researchers from Empa, the Swiss Federal Laboratories for Materials Science and Technology, h...
NEST inauguration with the Swiss President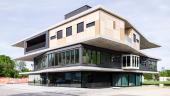 May 20, 2016 | A unique research and innovation platform has opened its doors: on 23 May 2016, the modular experimental building NEST was inaugurated on the Dübendorf campus of the two research institutes Empa and Eawag. Its official goal: to accelerate the innovat...
Distinguished Senior Researcher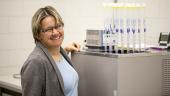 May 13, 2016 | Two researchers at Empa have already been appointed Distinguished Senior Researchers but, as the saying goes, all good things come in threes. As of 1 May, this title now also applies to Barbara Lothenbach.

Special focus on NEST
NEST is a living lab aimed at accelerating the innovation process in the building and energy sector. More than 90 partners from research, industry and the public sector will be joining forces at NEST to develop sustainable technologies, materials and systems, and test them under real conditions. The latest issue of
EmpaQuarterly
is focused entirely on that prestigious project.

Our newsletter helps you keep abreast of current research and development projects and reports on new technologies and innovations born in Empa's laboratories. It also highlights special technological and analytical services, which Empa provides, as well as technology offers for licencing. Moreover, it features upcoming events, portraits of Empa staff and new video podcasts.
If you like it, please subscribe!
Research
From Research to Innovation
Empa – The Place where Innovation Starts
Cooperations

Whether it be a bilateral collaboration on a specific research project, as partner in a multi-institutional network or consortium, through our high-end technical and analytical services, a research mandate or in a strategic partnership – there are numerous different ways and possibilities to cooperate with Empa.
All of them, however, have the same goal: to transform the latest findings from research into marketable innovations – in close cooperation with our partners from industry.
Feel free to get in touch with us and we will find a cooperation modell that «fits the bill».
Empa

Materials & Technology
for a Sustainable Future
Empa conducts cutting-edge materials and technology research, generating interdisciplinary solutions to major challenges faced by industry, and creates the necessary scientific basis to ensure that our society develops in a sustainable manner. As part of the ETH Domain, Empa is committed to excellence in all its activities.