Energy
Satisfying our energy demand in an environmentally and climate friendly way is an enormous challenge. Our energy consumption is constantly rising and all too often its production is harmful for the environment and climate. The Empa Research Focus Area "Energy" combines all the research areas on new materials, technologies, models and concepts that create options for a sustainable energy future.
On the one hand, for instance, Empa researches technology for energy-efficient buildings and sustainable mobility to reduce the energy demand. On the other hand, it also develops different forms of photovoltaics (PV) and new conversion and storage technology to keep guaranteeing the energy supply in a reliable and environmentally friendly manner. However, the generation, distribution and consumption of energy doesn't just take place in isolated units such as individual buildings or vehicles, but also in large systems like neighborhoods or entire cities. Consequently, scientists at Empa also model and calculate energy flows in these complex systems.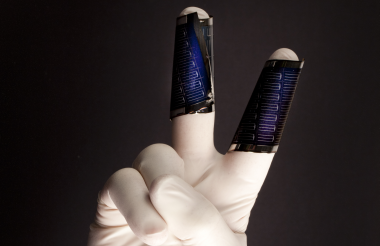 Obtaining, storing, converting and transporting renewable energies and using them efficiently should be sustainable from their generation to their disposal. Therefore, we conduct life-cycle assessments and study the environmental friendliness of entire projects.
What sets Empa apart is its ability to link extremely different fields of energy research and consciously promote the synergies that develop. Here at Empa, we combine the fields of buildings and mobility with energy systems, which mutually support each other, and implement the findings obtained in numerous projects with our industrial partners in practice. We develop demonstration and pilot project such as "NEST" (with an integrated energy hub) and "move" to test and evaluate these new developments as realistically as possible – for we need energy everywhere and all the time.