Center for X-ray Analytics
Empa's Center for X-ray Analytics enforces X-ray analytical method developments for materials science and technologies with the aim to support Swiss and European science and industrial innovation. The development of new materials is strongly connected to the possibilities for a comprehensive analysis of their properties. Analytical methods do not only provide knowledge about the materials, but also support understanding of the production process of these materials.
We have a unique European expertise and infrastructure in one laboratory combining X-ray diffraction, scattering and 3D imaging going from the Ångström to the meter scale. At Empa we profit from the interface with materials research groups for the study of the structure – function relationship: understanding for tailoring materials and materials systems properties. We support research with and user-specified/customized design of experiments and quantitative data analysis.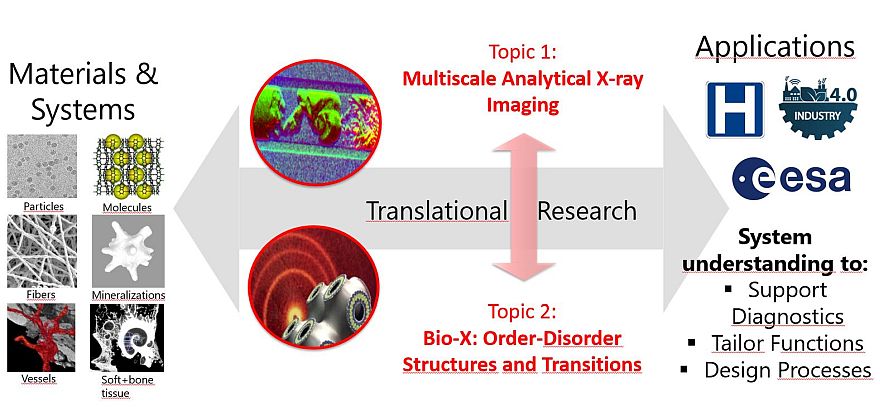 Our laboratory combines expertise of X-ray based imaging technology (nano- and micro-X-CT: 2D, 3D to 4D), X-ray diffraction (XRD, HRXRD) and wide and small angle scattering methods (WAXS, SAXS, XPCI). We work on developing and enhancing new competencies in X-ray methodology and aim in bridging the gap between X-ray methods by their combination and / or fusion. Studies of dynamical processes: on surfaces, in interfaces, in fluidic systems have a central part. Models for the understanding of complex systems such as low density and low contrast materials like bio-systems and polymers will be established especially for the bio medical sector in collaboration also with Swiss hospitals.
The X-ray team concentrates on life-sciences research (Health and Performance: new medical diagnostics), Nanoscale Materials & Technologies (model development for system understanding: systems between order and disorder), Materials for Energy Technologies and Sustainable Built Environment (phase contrast CT, e.g. imaging of liquid transport through porous building and energy materials).
---
Research Focus Areas (RFAs)
---
Upcoming events & news
Our internal CT reconstruction tools were going Open Source.
The reconstruction software is free available.
Click here to have an overview of all events at Empa.
---
Follow us on Social Media:
Twitter:
@center_Xrays
LinkedIn:
Center for X-ray Analytics
---
About us
Learn more about our center: video!