HiLo
The HiLo research and innovation unit demonstrates the impressive possibilities of lightweight construction. For the two-story building on the topmost platform of NEST, novel structural solutions are being used for the building envelope. During operation, the building automation of the unit will be continuously optimized with the involvement of the users. The construction started in summer 2019.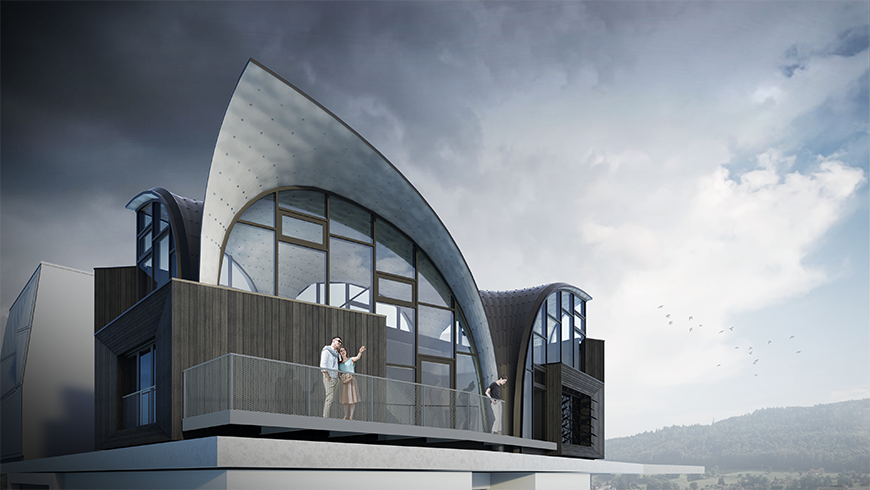 The innovation objects in the HiLo unit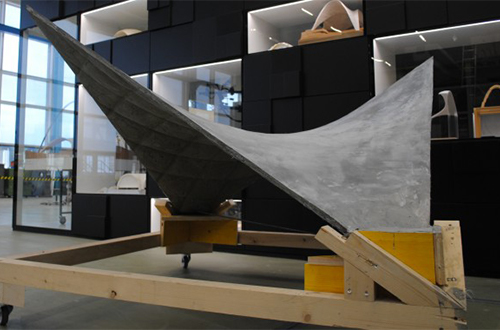 A new approach to the building envelope
The Block Research Group at ETH Zurich is looking for new load-bearing structures that allow both efficient use of materials and an aesthetically pleasing design. After several years of research, the combination of historical building principles and digital technologies resulted in the concept for a reusable formwork for double-curved structures, which consists of a cable net and a membrane stretched over it.
HiLo's roof demonstrates the possibilities of this new technology as well as additional challenges that need to be overcome if all requirements the roof of a modern building has to meet are to be fulfilled:
Statics
Thermal insulation by a multi-layered construction
Energy generation on the roof by means of flexible solar cells
Spacious effect on the inside
The HiLo roof is thus an inspiration for how the building envelope can be rethought and the new possibilities resulting from the combination of traditional knowledge and digital methods.
Partner: ETH Zurich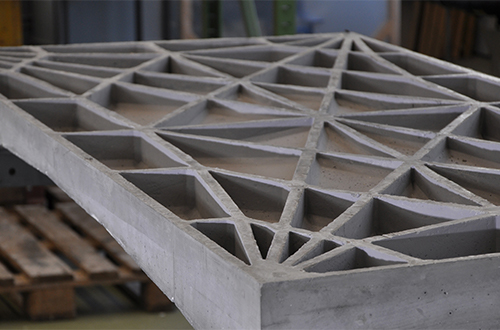 Lightweight floor construction
Thanks to a vaulted rib structure, the lightweight construction uses more than 70 percent less material compared to conventional concrete flooring. The floor elements can be prefabricated in modules and simply installed on site. The hollow spaces enable the efficient integration of ventilation, cooling and low-temperature heating.
Partner: ETH Zurich
Solar panels generate direct current (DC), which must be converted into alternating current (AC) for general use. Many end devices then convert this alternating current back to DC. These conversions are inefficient. In HiLo, as many household appliances and terminal devices as possible are directly connected to a DC network.
Partner: CSEM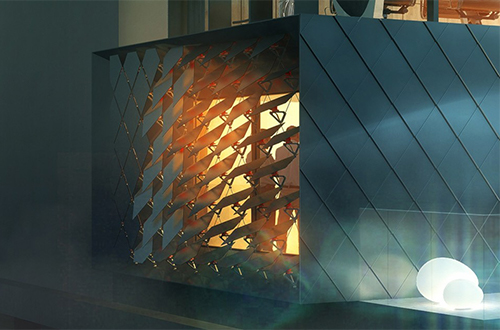 The Adaptive Solar Façade (ASF) is a dynamic façade of thin-film photovoltaic modules with soft, pneumatic actuators for solar tracking and daylight control. The elements provide solar energy generation and shading, and control the transparency of the façade. The elements can rotate to respond to changes in the outside environment and to the requirements from inside the unit. The modules are controlled based on sensors as well as on input by the inhabitants. Adaptive learning algorithms facilitate the continuous improvement of the behavior and thus the adaptation of the modules to their users and the environment.
Partner: ETH Zurich
Optimization of building automation
During operation, the building automation of the unit is continuously optimized with the involvement of the users.
Partner: ETH Zurich