Internationale Zusammenarbeit
Globale Herausforderungen lassen sich am besten durch internationale Partnerschaften und ein ausgedehntes Netzwerk zwischen Forschungsinstitutionen, privaten Organisationen und öffentlichen Einrichtungen angehen. Um technisch-wissenschaftliche Lösungen auf diese Fragen zu erarbeiten und diese möglichst schnell und effizient in marktfähige Innovationen umzusetzen, baut die Empa ihr internationales Partnernetzwerk über bilaterale Kooperationen, der Teilnahme an internationalen Forschungsprogrammen und den Austausch talentierter Wissenschaftler und Wissenschaftlerinnen kontinuierlich weiter aus.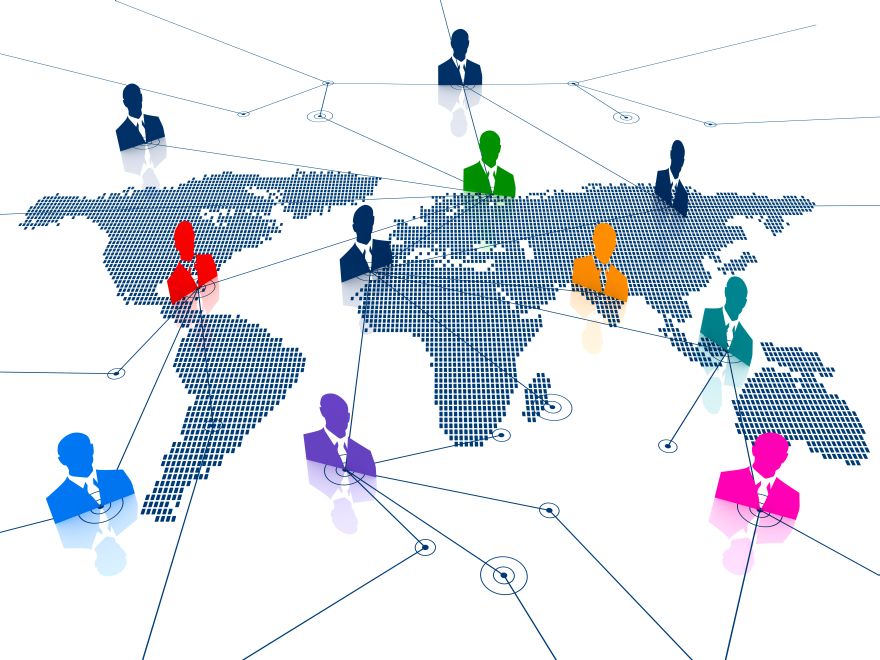 Wissenschaftliches und technologisches Knowhow sind globale Güter. Um diese bestmöglich zu nutzen und in praktische Anwendungen zu überführen, arbeitet die Empa mit zahlreichen internationalen Partnern zusammen. Dies spiegelt sich unter anderem in den wissenschaftlichen Veröffentlichungen der Empa-Forscher und -Forscherinnen wider; weit mehr als die Hälfte davon wurden mit Kollegen und Kolleginnen von Partnerinstitutionen aus dem Ausland veröffentlicht.
Globales Networking unter dem Banner der Innovation
Erstklassige Forschung und Industrienähe – das sind die zwei «Pole», zwischen denen sich die Empa bewegt. Durch effiziente und individuelle Formen der Zusammenarbeit sowie ein breites Spektrum an Dienstleistungen ist die Empa in der Lage, ihren Partnern massgeschneiderte Lösungen anzubieten. Sei es, um neue Produkten und Anwendungen zu entwickeln, Technologien zu optimieren, konkrete Probleme zu lösen oder technisches Fachpersonal auf den neuesten Stand des Wissens zu bringen – die Empa ist mit ihren knapp 550 hochqualifizierten Wissenschaftlern und Wissenschaftlerinnen sowie erstklassiger technischer Infrastruktur die richtige Adresse.
Einige Beispiele illustrieren das internationale Engagement der Empa. So ist die Empa etwa Partner im EU Flagship-Projekt «Graphen». Das 2013 gestartete, pan-Europäische F&E-Projekt läuft für (mindestens) zehn Jahre und bündelt die europäischen Forschungskompetenzen rund im dieses neue Material. Die Empa untersucht unter anderem die elektronischen Eigenschaften des ultradünnen Kohlenstoffnetzwerks sowie potenzielle Risiken für Gesundheit und Umwelt. Und für den 2014 veröffentlichten UN-Expertenbericht zum Ozonabbau in unserer Atmosphäre stellte die Empa einen der Hauptautoren.
Kooperationen vom Sonnenauf- bis zum Sonnenuntergang
Das internationale Netzwerk der Empa ist in der Tat global, es erstreckt sich vom Fernen Osten – das National Institute for Material Science (NIMS) in Japan, mit dem die Empa das Fachjournal «Science and Technology of Advanced Materials» herausgibt, und das Korea Institute of Science and Technology (KIST), um nur einige wenige zu nennen – bis in den Westen der USA, beispielsweise das Lawrence Livermore National Laboratory (LLNL) in Kalifornien und das Los Alamos National Laboratory in New Mexico (LANL), von den zahlreichen europäischen Partnern ganz zu schweigen.
Zusammen mit 49 «Schwesterinstitutionen» aus der ganzen Welt ist die Empa Mitglied im 2005 gegründeten «World Materials Research Institutes Forum» (WMRIF). Das Netzwerk unterstützt Innovationen in den Materialwissenschaften durch Informationsaustausch, der gemeinsamen Nutzung von Forschungsinfrastruktur und Strategiepapieren zur Zukunft der Materialforschung
Internationale Zusammenarbeit Managerin
---