Empa Archive
The archive covers the premises in Dübendorf and St. Gallen where files are stored temporarily or archived permanently.
The archive represents cross-section of the organization's past activities. It ensures that they won't be forgotten and offers a wealth of experience for the future. The Empa Archive safeguards, indexes and mediates all business-related documents from all of Empa's units at the campuses in Dübendorf, Thun and St. Gallen.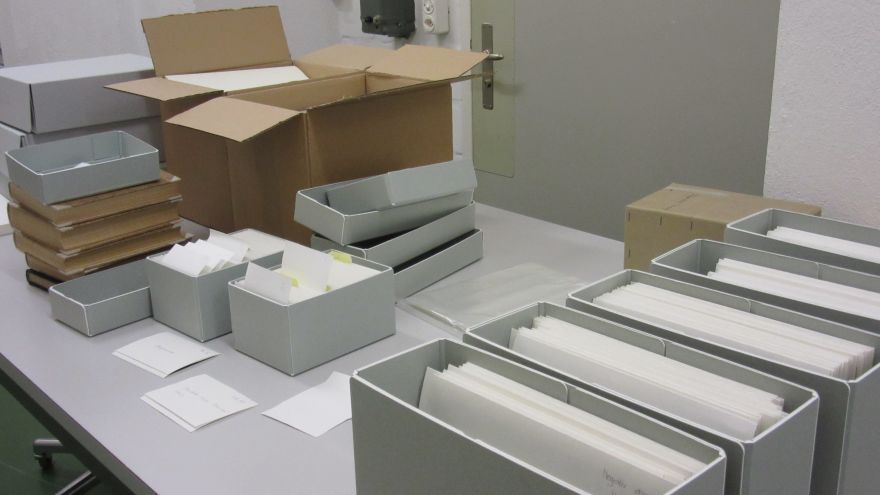 Long-term archiving enables:
The preservation of all business-related documents
The protection of legal entitlements
Support for knowledge management
The preservation of foundations for research on the history of science.

Details on archiving and the nature of documents in urgent need of storage are outlined in the Management Handbook, Section 2.3.20 in the appendix.
Services
Dossier management (dossier@empa.ch)
Recording of archival material
Evaluation and indexing of archival material
Mediation of documents from the archives
Dossier management includes the recording and circulation of all dossiers in the Dossier Archive in Dübendorf. In St. Gallen, however, the departments are responsible for this task. Dossiers are stored for at least 10 years (longer in Dübendorf). Every year, all the departments are supposed to earmark a maximum of five dossiers that typify orders from this particular department. These dossiers and the court evaluations should be tagged (red sticker, labeling of reference dossiers or court evaluations) so they can easily be separated out again later on during collection.