Building Integration
The activities of the Building Integration Group are focused on the development of new high performance insulation products based on silica aerogels as well as their applications in buildings.
Silica aerogels are ideally suited as insulation materials for buildings, due to their extremely low thermal conductivity while still being vapour-permeable. Furthermore, aerogel is non-flammable and hydrophobic, i.e. moisture does not accumulate in it under normal conditions in building applications, thus allowing for a wide range of applications.
Information for professionals
One impediment to the usage of aerogel in the building sector is the lack of knowledge on aerogel materials and products with building professionals. Because risks and potentials of these new materials are not known widely in the sector, many opportunities are missed where aerogel would bring an added value in terms of comfort, energy or financial savings. To ameliorate this situation, Empa has created an independent website that provides information on the most common aerogel products available in Switzerland. Furthermore, examples of applications in the build environment are given. The website is geared specifically towards building professionals and is hence available in German under
www.aerogelanwendungen.ch
.
Key Projects
In our projects, we cooperate with partners both from industry and academia. We also consult building projects with novel applications of aerogel materials.Additionally, we study the behaviour of material properties of aerogel products over time as well as their long-term performance in the building application. The goal is a better documentation of existing aerogel applications and the correct implementation of the different systems. These activities are integrated in the IAE Annex 65 research programme "Long Term Performance of Super-Insulating Materials in Building Components and Systems". Furthermore, we are part in the implementation of work package 1: "Building Envelope" of the SCCER FEEB&D, the Swiss Competence Center for Energy Research for Future Energy Efficient Buildings & Districts.
Some of our key projects are:
Hohlstrasse 100, Zürich
First new building in Switzerland with an aerogel insulated façade. The project is supported by BFE as a Lighthouse P&D project. The building is currently under construction in a high-density area of Zürich. Due to the usage of aerogel materials, a thinner layer of insulation can be utilized compared to conventional insulation materials, making more space available inside the building. At the same time, a high energy standard can be reached (MinergieP).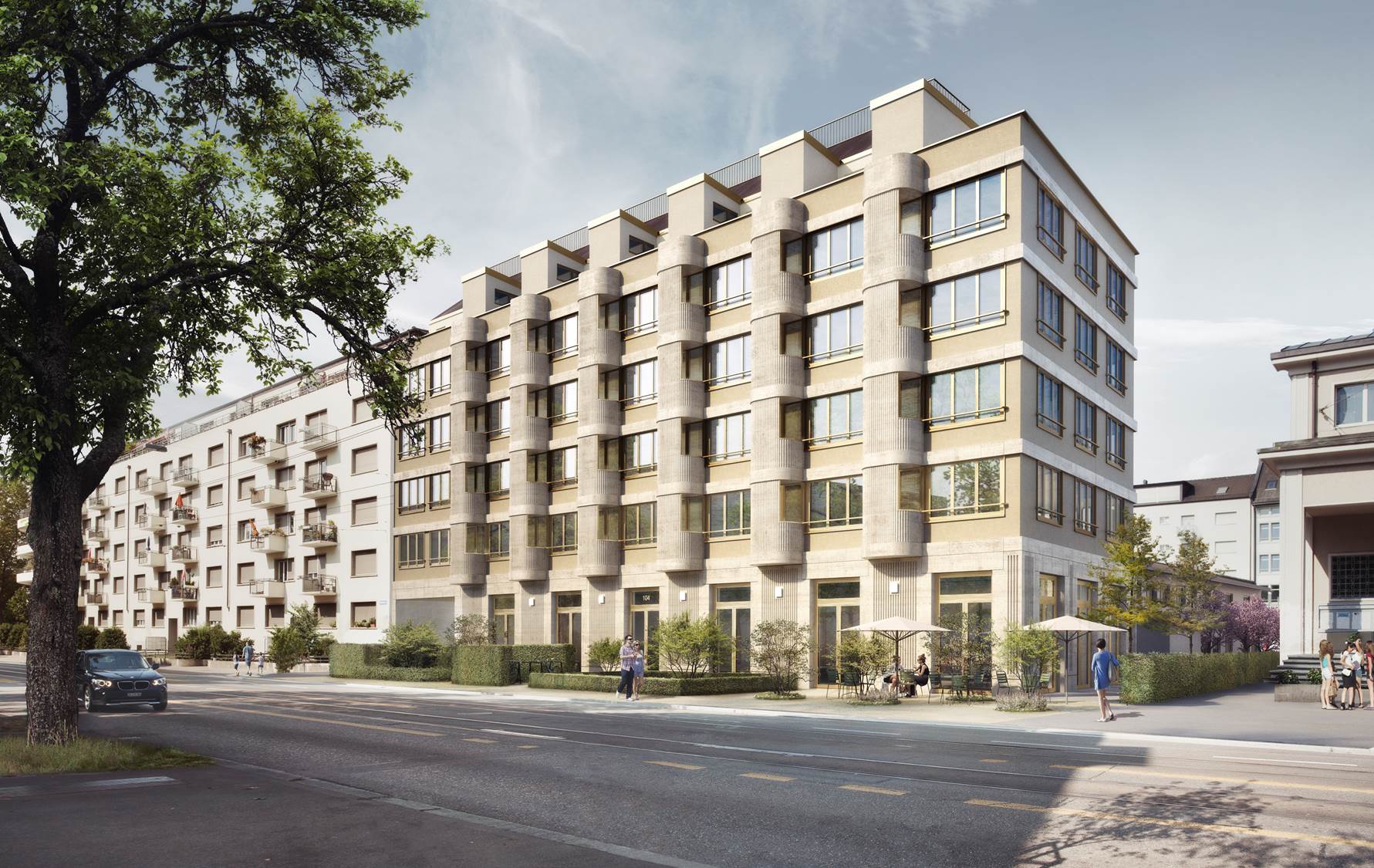 Aerogel Render (completed)
In cooperation with Fixit, an aerogel render with a low thermal conductivity of 28 mW/(m·K) was developed. It is commercially available under the name of Fixit 222. In the render, aerogel granulate with a thermal conductivity of approximately 20 mW/(m·K) is embedded. The aerogel render opens completely new possibilities in the renovation of historic or protected buildings: with only a thin layer of the render – often times substituting the existing render – the U-value can be decreased drastically. Thus, a higher thermal comfort and a reduction in heating energy can be achieved.