Printing and Wet Coating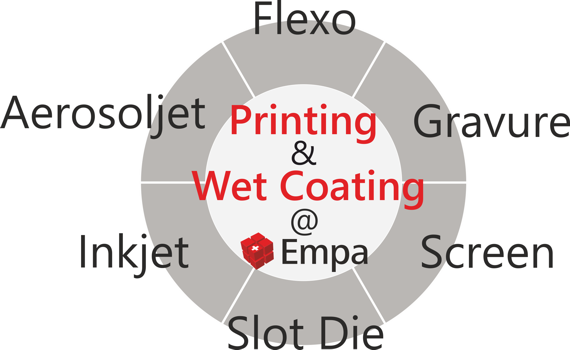 The printing and wet coating facility enables research in the field of printed electronics.
We host a broad spectrum of printing and coating techniques where we can manufacture demonstrator prototypes up to small series printed electronic systems. Our processing level is sheet-to-sheet, the techniques are mostly compatible with mass manufacturing and we can demonstrate large-scale implementation for devices.
Among analog printing technologies we offer Flexography-, Gravure and Screen-printing, available digital printing technologies include inkjet printing and aerosoljet printing. Coating technologies include slot die coating (TSE Troller), spin-coating and blade-coating.
Challenger C600
The Challenger C600 is a unique sheet-to-product printing and coating system from the company nsm Schläfli AG. The C600 is especially designed to meet and exceed the high technical demands of printed electronics. Its unique register precision allows printing of multilayers with highest accuracy and allows for the design of complex structures.
The Challenger C600 is equipped with the following printing and coating units:
Inkjet Printing
The CCC host an PiXDRO LP 50 ink jet printer from Meyer Burger. The printer can be equipped with printheads from Dimatix, Spectra and Konica Minolta.
Aerosoljet Printing
Empa's CCC hosts an Aerosoljet printer from Optomec. The state of the art machine (5X System with Decathlon printhead) is run in close cooperation with the manufacturer.
Slot Die coating
Slot die coating is a processing technique for the deposition of homogeneous wet films. It is usually used to coat large areas or stripes with high uniformity by precise metering the ink and dispensing it at a controlled rate on the moving substrate. In our cleanroom we run a lab-size table-top Slot Die coater from Swiss manufacturer TSE Troller.
Further coating technologies
Gravure printing (Labratester Norbert Schläfli AG)
Spin-coating
Blade-coating.
Ink characterization
The lab is also equipped with all necessary ink characterization techniques to measure rheology, density, viscosity, surface tension and contact-angle.
Ink synthesis
The chemistry lab allows the synthesis and modification of specialized inks. For example, nanoparticles, sol-gel-systems and 2D-materials were synthesized and inks were formulated to perfectly fit the desired printing method.
The CCC offers:
A facility that enables you to explore radically new manufacturing approaches for your product
Feasibility studies for printing processes
A printing technology platform for prototyping and low-volume manufacturing
An ISO class 6 cleanroom
An experienced R&D team in device manufacturing, printing technologies and chemistry
The R&D infrastructure of a renowned research institute with state-of-the-art analytical tools
Different models of collaboration