Facilities and Infrastructure
The Coating Competence Center (CCC) is more than one physical location of several hundred square meters. It is embedded in the Empa facilities and infrastructure. The researchers who are developing new coating technologies in the CCC can use the other Empa facilities to prepare and evaluate the trials that are executed on the machines in the CCC. This combination of cutting-edge pilot-scale coating machines and the other Empa facilities, infrastructure and competences enables excellent research that is meaningful for both science and industry.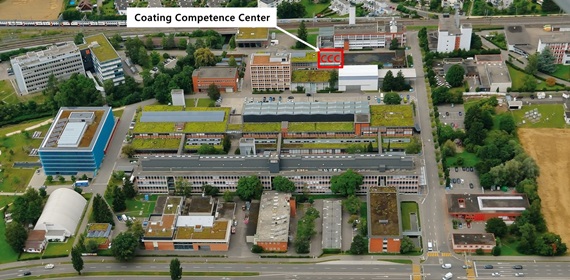 Facilities of the Coating Competence Center
The main facility of the Coating Competence Center is located on the Empa site in Dübendorf. It has a surface of about 400 square meter and offers a modern infrastructure to perform trials on pilot-scale machines:
Clean rooms (one class 6 and two class 7 clean rooms with laminar flow)
Laboratories (material handling chemistry storage, sample preparation, etc.)
Modern infrastructure with the necessary technical utilities:

Water preparation (three different temperatures, demineralized water, waste water preparation)
Technical gases (six different technical gases and filtered compressed air)
Electricity (high power energy supply with shielded cables)
Beyond the pilot scale machines that are located in the CCC in Dübendorf there are further pilot-scale machines available on other Empa locations, e.g. the pilot coater for Plasma-enhanced Chemical Vapor Deposition in St. Gallen.
Empa's analytical equipment and competence
Empa as the leading Swiss research institute for materials offers an exceptional range of high quality analytical equipment as well as the people that can operate such equipment and that can help the CCC team in understanding in detail what happened during the coating and printing processes. The availability of the other Empa facilities and infrastructure combined with the pilot machines makes the Coating Competence Center unique and offers great opportunities to develop new and innovative coating technologies.