MatLab
Materiolab 2018
The Short Project takes place in collaboration with Empa in Dübendorf and its group Cellulose & Wood Materials and Weidmann AG in Rapperswil. As the interdisciplinary research institute for materials science and technology of the ETH Domain, Empa conducts application-oriented cutting-edge research both nationally and internationally for the benefit of industry and society. The focus of this short project was on the material-driven, experimental exploration of micro-fibrillated cellulose (MFC) at various levels, with the project focusing on the iterative, design-oriented process, application possibilities and perceptual qualities of the material. The project enabled students from HSLU to gain insight into the interdisciplinary work of designers and scientists and to experience the design process as an innovation driver in the development and research of new material concepts.
Contact, Partners & Publication
Contact@Empa
Thomas Geiger
Partner
Hochschule Luzern – Design & Kunst (Carmen Blättler, Carmina Lara Müller Ibañez, Meri Zirkelbach, Jan Eckert, Isabel Müggler Zumstein)
Publication
Status: completed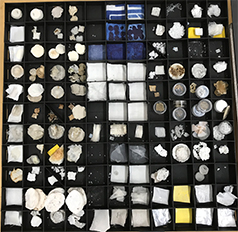 MFC at various levels.