Publications 2011
Brunner, A. J.; Bachmann, F. Schallemissionsanalyse von Zugversuchen an Piezoplättchen mit unterschiedlicher Vorspannung. Presented at the 18. Kolloquium Schallemission. Statusberichte zur Entwicklung und Anwendung der Schallemissionsanalyse, Wetzlar, Germany, October 27–28, 2011; p (8 pp.).
Dürager, C.; Heinzelmann, A.; Riederer, D. Wireless sensor network for guided wave propagation with piezoelectric transducers. Presented at the 8th international workshop on structural health monitoring (IWSHM), Stanford, CA, USA, September 13–15, 2011; Chang, F. K., Ed.; DEStech; Vol. 2, pp 2028-2034.
Jordi, C. Biomimetic airship driven by dielectric elastomer actuators. Doctoral dissertation, ETH Zürich, Switzerland, 2011, 152 p. https://doi.org/10.3929/ethz-a-006706206
Major, Z.; Brunner, A. J. Fracture mechanics test methods for polymers and composites. Presented at the 28th Danubia-Adria symposium on advances in experimental mechanics (DAS 2011), Siófok, Hungary, September 28–October 1, 2011; Scientific society for mechanical engineering (GTE); p 3 (2 pp.).
Meier, U.; Brönnimann, R.; Anderegg, P.; Terrasi, G. P. Two decades of experience with structural health monitoring of structures with CFRP components. Presented at the 7th national workshop on nondestructive evaluation of civil infrastructure system (NDECIS'11) Nuclear power safety-applications of non-contact inspection and evaluation to large structures, Tai Zhong, Taiwan, November 3–4, 2011; SNTCT; pp 189-206.
Ritschel, F.; Niemz, P.; Brunner, A. J. Wellenformanalyse von Schallemissionssignalen ausgewählter Zugversuche an Vollholz- und Sperrholz/LVL-Prüfkörpern. Presented at the 18. Kolloquium Schallemission. Statusberichte zur Entwicklung und Anwendung der Schallemissionsanalyse, Wetzlar, Germany, October 27–28, 2011; p (8 pp.).
Ein neuer Standartartikel
Dieser Artikel ist in verschiedene Teile gegliedert, welche auf dem unteren Übersichtsbild markiert sind. Über den 'Bearbeiten'-Link am Ende der Seite kann deren Inhalt angepasst werden.
Grundsätzlich besteht ein Artikel immer aus einem Titel, darunter das Abstract mit optionalem Bild und danach ein oder mehrere Paragraphen. Wobei bei den Paragraphen der Titel und das Bild optional sind. Für zusätzliche zum Artikel gehörende Informationen stehen auf der rechten Seite kleine Boxen zur Verfügung.
Eine Einführung zur Bearbeitung befindet sich unter dem Übersichtsbild.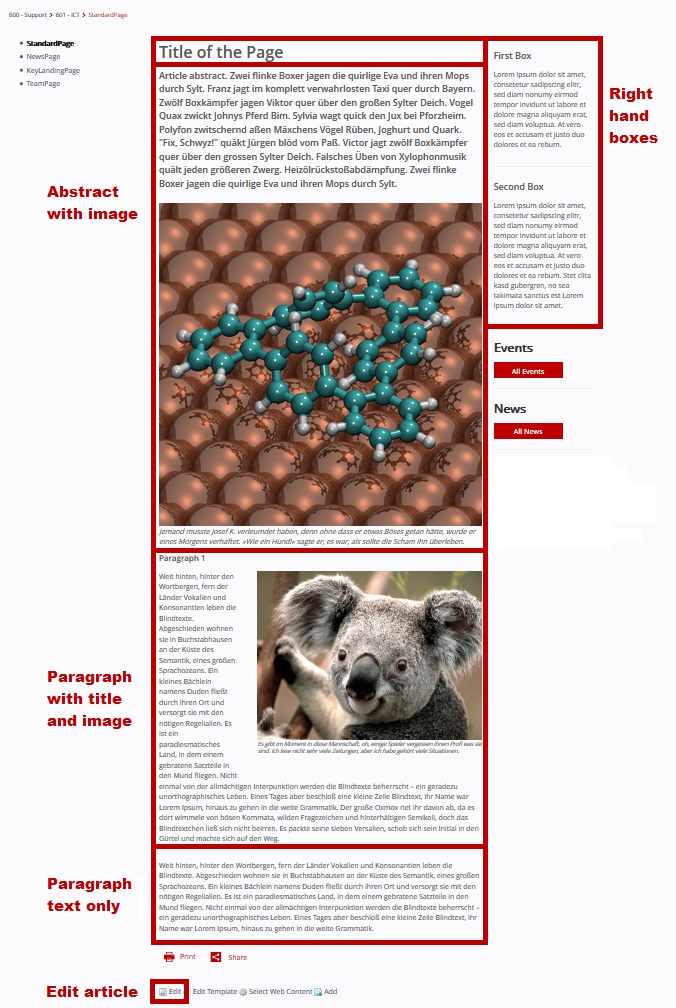 Artikel bearbeiten
Auf der Bearbeitungsseite ist der Aufbau der einzelnen Sektionen sehr ähnlich. Grundsätzlich bestehen sie aus einem Titel, dem Text, eimem optionalen Bild mit dazugehörigem Link. Es sollte beachtet werden, dass die Sektion nicht angezeigt wird solange sie keinen Text enthält.
Auf der rechten Seite finden sich die Schaltflächen zum publizieren, als Entwurf speichern oder abzubrechen. Die Änderungen können als Entwurf gespeichert werden, um später daran weiter zu arbeitn ohne den Artikel zu veröffentlichen. Ist der Artikel fertig kann er veröffentlicht werden und ist ab dann sichtbar. Mit Abbrechen werden die Änderungen verworfen.
Paragraphen und Boxen
Bei einem Paragraphen kann die Schriftgrösse des Titels und die Position des Bildes zusätzlich noch angegeben werden. Im gegensatz dazu bestehen die Boxen auf der rechten Seite nur aus einem Titel und Text.
Über das Plus oder Minus in der oberen rechten Ecke der jeweiligen Sektion kann ein neues Element erzeugt oder entfernt werden. So können zusätzliche Paragraphen oder Boxen erstellt werden.
First Box
Hier könnten weitere wichtige Informationen zum Artikel stehen.