Chalcogenide Thin-Film Solar Cells
Solar cells based on Cu(In1-xGax)Se2 (CIGS) thin film absorbers show very high efficiencies and performance stabilities. Empa has developed a scalable deposition process for CIGS thin-film solar cells suitable for high-speed and in-line production on flexible polymer foils. The thickness of the completed solar cell including the polymer substrate is less than 25 µm.
A world record efficiency of 22.2% was recently achieved, up from the 21.4% mark reported in 2021.
Main research topics include:
engineering of band gap, composition and interfaces of the CIGS absorber for optimum device efficiency and upscaling potential,
investigation of the solar cell electrical, optical properties as well as performance loss mechanisms,
advances with alternative environmental-friendly processes for other constituent layers,
development of low-bandgap absorbers for high-performance multijunction (tandem) solar cells
The development of highly efficient, stable, light weight and flexible solar cells is important for emerging markets such as building-integrated (BIPV), portable electronics, mobility as well as for aerospace applications. A spin-off of the group scales-up and commercializes solar modules based on the technology developed in the lab.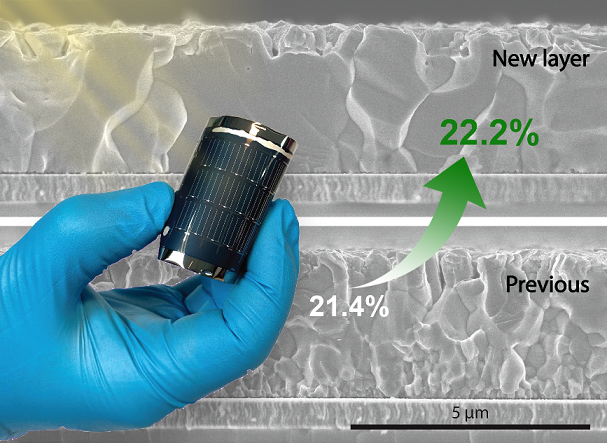 Selected publications:
Yang, S. C., Lin, T. Y., Ochoa, M., Lai, H., Kothandaraman, R., Fu, F., Tiwari, A. N., Carron, R.

(2023)

Efficiency boost of bifacial Cu(In,Ga)Se2 thin-film solar cells for flexible and tandem applications with silver-assisted low-temperature process. Nature Energy.

8

, 40–51.

Yang, S. C., Sastre, J., Krause, M., Sun, X., Hertwig, R., Ochoa, M., Tiwari, A. N., Carron, R. (2021). Silver-promoted high-performance (Ag,Cu)(In,Ga)Se2

thin-film solar cells grown at very low temperature.

Solar RRL

, 5(5), 2100108 (6 pp.)

Ochoa, M., Buecheler, S., Tiwari, A. N., & Carron, R. (2020). Challenges and opportunities for an efficiency boost of next generation Cu(In,Ga)Se2 solar cells: prospects for a paradigm shift. Energy and Environmental Science, 13(7), 2047 (9 pp.).
Carron, R., Nishiwaki, S., Feurer, T., Hertwig, R., Avancini, E., Löckinger, J., Yang, Sh., Buecheler, S., Tiwari, A. N. (2019). Advanced alkali treatments for high‐efficiency Cu(In,Ga)Se2 solar cells on flexible substrates.

Advanced Energy Materials

,

9

(24), 1900408 (8 pp.).
Feurer, T., Carron, R., Torres Sevilla, G., Fu, F., Pisoni, S., Romanyuk, Y. E., Buecheler, S., Tiwari, A. N. (2019). Efficiency improvement of near‐stoichiometric CuInSe2Solar cells for application in tandem devices.

Advanced Energy Materials

,

9

(35), 1901428 (6 pp.).
Kesterite thin-film solar cells
Kesterite is a thin-film solar cell technology. Its constituent metals (Cu, Sn, Zn, S and Se, in short CZTSSe) are abundant in the earth crust, thus it is a sustainable alternative to e.g. CIGS for the substitution of critical raw materials (CRM) like In and Ga. This also offers a secure supply chain as the metal production is distributed worldwide. Kesterite technology is also fully compatible with current CIGS production lines, thus it has a realistic potential to achieve the efficiency levels required for transferring the processes to relevant industrial environments.
Empa reached efficiencies up to 12.2% (active area) through lithium addition via a non-vacuum precursor synthesis route, close to the 12.6% world record. The main factor limiting the performance is explained by the large Voc-deficit.
Main research activities are:
investigation on defect passivation via chemical treatments;
engineering of a

bsorber annealing a

nd composition;
analysis of defect type and concentration.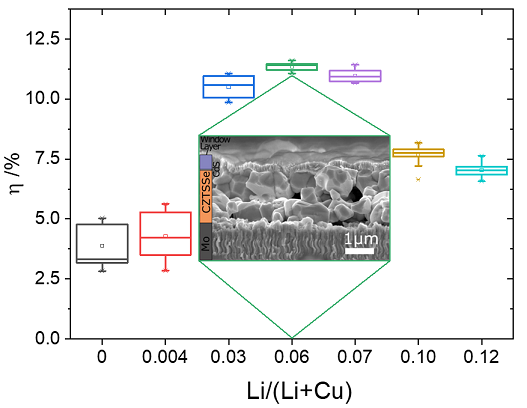 Selected publications:
Cabas-Vidani, A., Choubrac, L., Márquez, J. A., Unold, T., Maiberg, M., Scheer, R., Li, H., Leifer, K., Pauer, R., Gilshtein, E., Tiwari, A. N., and Romanyuk Y. E., (2021). Influence of the rear interface on composition and photoluminescence yield of CZTSSe absorbers: a case for an Al2O3 intermediate layer. ACS Applied Materials and Interfaces, 13(16), 19487-19496.
A. Cabas-Vidani, S. G. Haass, C. Andres, R. Caballero, R. Figi, C. Schreiner, J. A. Márquez, C. Hages, T. Unold, D. Bleiner, A. N. Tiwari, Y. E. Romanyuk, Adv. Energy Mater. 2018.