Simulating Biological Systems Group
What do we do? We work on providing and processing nutritious, appealing, and affordable fresh foods and digital health solutions to society. We target reducing food loss, increasing plant-based foods' shelf life, and making postharvest supply chains resilient through better decision-making and logistics. We also individualize nutrition and drug delivery to the human body by understanding these processes and developing new systems.
Why do we do this? We are particularly on a quest to identify when and where we lose the quality of fresh fruit and vegetables for every shipment in domestic and overseas supply chains. We aim to prevent or treat acute and chronic non-communicable diseases and health conditions through nutrition and drugs to help fight hunger, malnutrition, and obesity.
How do we do this?
Pioneering physics-based simulations and data-driven modeling of transport processes in plant-based food systems and the human body at multiple scales

Multi-parameter sensing, data fusion, data analytics, and data upcycling

Creating digital twins that live together with their real-world counterparts to bridge the virtual to the real world

Combining these twins with additional hardware to deploy cyber-physical systems

Disseminating these digital tools to scientists and society via open-access mobile applications and tools
Who are we? An interdisciplinary team of mechanical, biomedical and agricultural engineers, food scientists and environmental scientists.
Who do we work with? We bring together interdisciplinary consortia of stakeholders in food supply chains and the medical sector, such as growers, exporters, sensor companies, startups, retailers, nutritionists, and hospitals.
Where are we at Empa? We are part of the Laboratory for Biomimetic Membranes and Textiles in Empa's Research Focal Area Health and Performance
What are our key education and outreach activities? We teach a Master course @ ETH Zurich on Simulations and Sensors in Agri-Food Supply Chains (5 ECTS credits). We also coordinate Empa's Multiphysics Community (intranet - external page).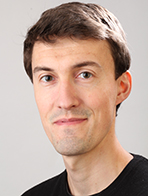 Group Leader SimBioSys
Prof. at Wageningen University
thijs.defraeye@empa.ch
+41 58 765 4790
---