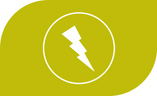 HYDROGEN GENERATOR (ELECTROLYSIS)
Excess energy is converted to hydrogen for seasonal storage. Benefits in hydrogen storage for seasonal purposes are found in the separation of converter and storage; hydrogen generator / fuel cell and hydrogen storage tank respectively as well as the increased energy density.
The hydrogen generator runs on an average of 400 W. It produces 45.5 Nl of hydrogen per hour resulting in an energy consumption of 8.77 Wh / Nl of hydrogen. The hydrogen generator thus has an efficiency of 34 % in respect to the lower heating value of hydrogen. When converting back to electricity with the installed fuel cell, the resulting efficiency of the seasonal storage is approximately 15 % from electric input to electric output. Even though this may seem low, in his application, the measure of importance is only the fuel cell efficiency which lies at approximately 45 %. Storage capacity is more limiting then the ability to charge the hydrogen storage.
| | |
| --- | --- |
| Avg. power consumpsion | 400 W |
| Pressure output | Min. 1.4 bar, max. 10.7 bar |
| Voltage | 120 or 240 V / 50-60 Hz |
| Operating temperature | 15 °C to 40 °C |
| Storage temperature | 2 °C to 60 °C |
| Noise | 46 dB(A) |