Empa and Avenergy stand at the fair
Fuels of the future at the OLMA
From October 7 to 17, the OLMA trade fair will take place in St. Gallen. Empa and Avenergy Suisse will be presenting the theme of the future, hydrogen, at a joint stand in Hall 9.0. Visitors can use a simulator to practice refueling a fuel cell car and learn how mobility in Switzerland can become climate-neutral.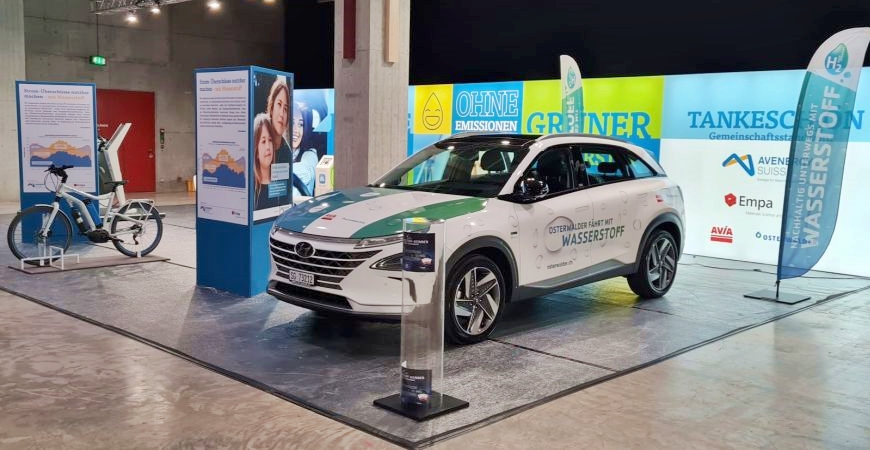 Anyone who wants to find out how we can power cars - and also trucks and buses - with energy produced in a climate-neutral way should visit stand 9.0.077 in Hall 9.0 at the Olma. There Empa, together with Avenergy Suisse, will be presenting fuels of the future.
Don't be afraid of hydrogen
On display at the Avenergy stand is a state-of-the-art electric car powered by a fuel cell: the Hyundai NEXO. A bicycle with a fuel cell can also be admired: a one-off built by Linde's research department. Visitors can use a fuel simulator to try out for themselves how easily and quickly a hydrogen car can be refueled.
Fuels from surplus, renewable electricity
To produce CO2-neutral fuels, we need to use surplus electricity from renewable sources: for example, from solar plants, wind farms or run-of-river hydroelectric plants. This CO2-neutral electricity will be used to produce hydrogen that can be stored for weeks or months. In this way, we can use solar power - which is mainly generated in the summer - for mobility in the winter as well. This is a decisive advantage over battery-powered vehicles, which should be charged precisely when green electricity is being produced.
From hydrogen to synfuel
Climate-neutral hydrogen can not only be filled directly into the car, but can also be converted together with CO2 into gaseous and liquid fuels - so-called synfuels. Synfuels have the advantage that they can be easily stored. Synfuels can power conventional diesel and gasoline engines. Empa is realizing and investigating such concepts in its mobility demonstrator "move" in Dübendorf and is testing the production and use of these sustainable fuels in everyday life.
Prize draw
Those who have paid attention and know about hydrogen can take part in an Empa competition at the Avenergy stand. The first prize is an extensive test drive: a whole weekend with the Toyota Mirai, the fuel cell car from Toyota. The winner gets to refuel for free.
In addition, we will be giving away 20 copies of the book "Beyond materials - A brief history of Empa", which describes how Empa has developed over the last 140 years from the ETH materials testing laboratory into a modern research institute.
---
---
---
---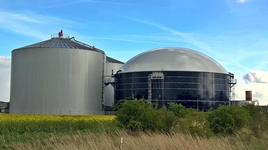 Radio program on SRF4 of July 4, 2019, in German