Podcast from the NEST (in German)
Peter Richner in conversation with visionaries
In the NEST Podcast, Peter Richner, Deputy Director of Empa, meets interesting guests from politics, engineering sciences and architecture to discuss innovations in the building industry and its future. The guest of the current episode is Fabio Gramazio, Professor of Architecture and Digital Planning at ETH Zurich.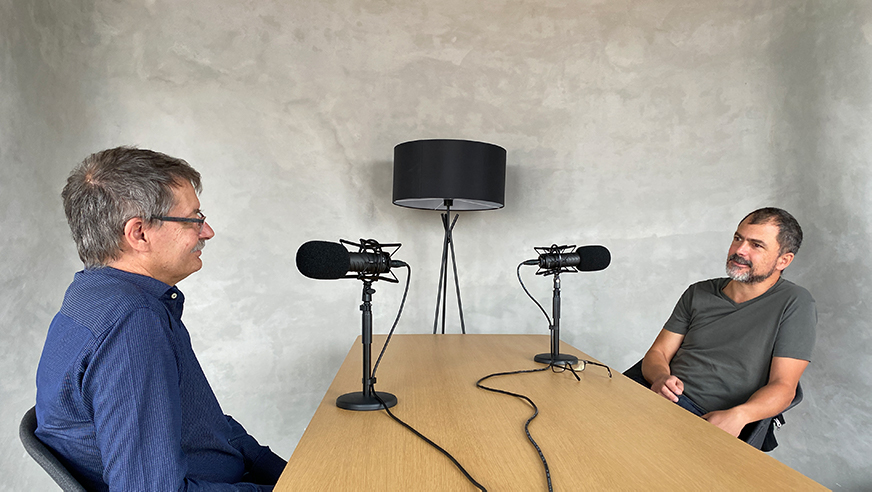 Many exciting people visit NEST every day. Here they share their ideas, visions and opinions with others and help to advance innovations in the building sector. In our series of NEST Podcasts, we want to give these people a voice. Peter Richner, Deputy CEO of Empa, talks to his guests about innovation in the construction industry, about opportunities and obstacles on the path to the future and about many other things that drive the construction sector. All talks are held in German.
Episode 4: The long road to a digital building culture
In the fourth episode of the NEST Podcast, Peter Richner is joined by Fabio Gramazio, Professor of Architecture and Digital Fabrication. The two talk about the path towards a digital building culture, the dangers of a revolution and the patience required for evolution - and about the complexity of trees.
Guests from politics, journalism and architecture
In the last three episodes, Peter Richner hosted further exciting guests from different areas.
He talked with Judit Solt, Editor-in-Chief of TEC21, about the important role of architects in the planning and realization of buildings and about the difficult relationship between engineers and art.
In the second episode, Lucerne's Council of States member Damian Müller raised clear demands from politicians towards research and discussed with Peter Richner the coupling of buildings and mobility to reduce CO2 emissions.
In the pilot episode, Peter met SIA President Stefan Cadosch. Their discussion focused on the tension between standardization and innovation, hypes in architecture - and expensive violins.
All episodes are available on Spotify, Apple Podcast or on the NEST Podcast page.