Coating Technologies
The Coating Technologies group explores and develops new thin films and coatings – mainly fabricated by PVD technologies – with properties enhanced by improved deposition processes, nanoscale effects and combinations of different materials. The aim is to understand the mechanisms and interrelations in the coating process in order to be able to control it.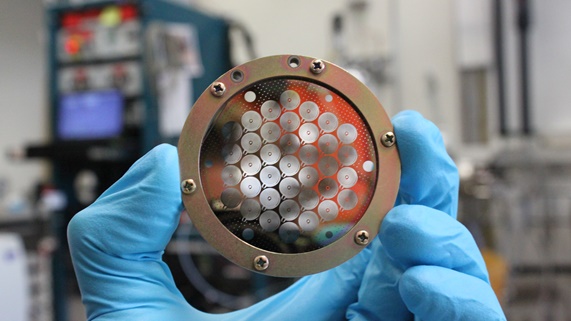 Why thin films and coatings?
Whether you use your computer, tablet or smartphone, whether your car consumes less gasoline because of low gear friction, or whether your eyeglasses look good because they are not reflecting lights, there are always thin films and coatings that make these everyday products functioning. Thin films and coatings enable us to render the properties of the zones near a surface to be very different from the underlying material. Hard coatings may protect the underlying softer part from premature wear. The electronic properties of thin films in microelectronics are very different from those of the underlying silicon wafer. And the bio-response of surface-treated implants is specifically tuned for optimal acceptance by human cell tissue. The development of new thin films and their combinations therefore often pave the way towards products that ease our daily lives.
Research & Projects
The Coating Technologies group focuses on the fabrication of thin film materials with enhanced functional properties using advanced deposition processes with the aim to drive innovations in different fields ranging from hard-coatings to ceramics and compound semiconductors. Of particular interest for our research are high-energy non-equilibrium physical vapor deposition techniques such as high-power impulse magnetron sputtering (HiPIMS). Recent activities in this area include the metallization of polymer implants for improved osseo-integration as well as the development of piezoelectric nitrides. You will find more information about the main research topics of the group here. The group is furthermore embedded in a larger Empa coating research community applying coating technologies in various domains and applications.
Equipment & Services
The group owns several coating machines and has access to state-of-the-art characterization equipment. The coatings are fabricated by classical magnetron sputtering, reactive sputtering, high-impulse magnetron sputtering (HiPIMS) and plasma-assisted chemical vapor deposition (PACVD). The transfer from lab to applications is made possible through the use of both a medium scale industrial HiPIMS coating machine (Oerlikon Ingenia S3p) and lab-scale UHV sputter deposition systems. The group provides coating and analytical services in combination with research activities for internal and external academic partners as well as for industrial partners.