Ceramic electrodes and electrolytes
We research on renewable energy sources for a safe, clean environment and a sustainable energy economy. Focus is the discovery and elucidation of principal mechanisms which govern behavior and properties of ceramics, in particular the correlation between materials structure and transport properties for electrochemical storage and conversion systems, the interaction of surfaces with gases, liquids, light, and organic matter.
For the understanding of structure-property relationships on the mesoscopic and molecular scale, we employ in-situ and operando synchrotron x-ray and neutron scattering and spectroscopy. We collaborate with high profile partners worldwide.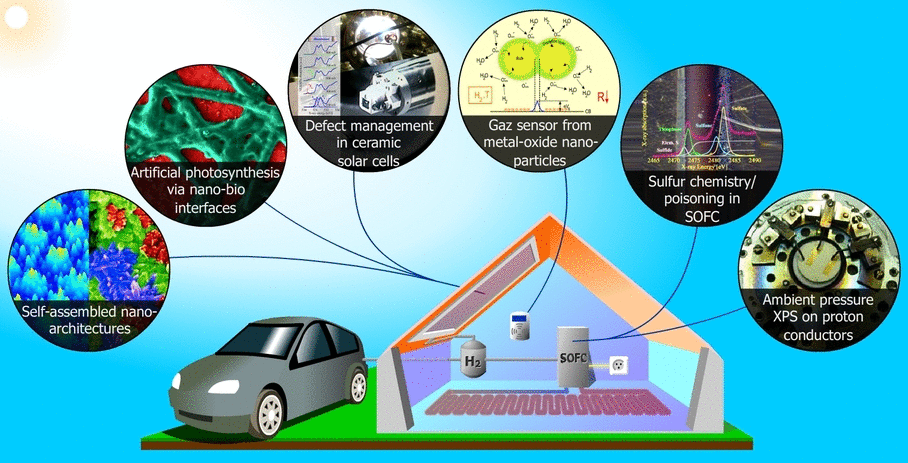 Our Fields of Activity
NEW Solar Hydrogen Generator / PEC Device NEW
Photonic Light Trapping for Photoelectrochemical Water Splitting
Neutron and X-ray Methods for the Characterization of Solid Oxide Fuel Cell Materials, Cells, and Stacks
Nano-Bio Hybrids for Artificial Photosynthesis
Photoelectrochemical Cells (PEC) for Solar Hydrogen Production
Self Organization and Pattern Formation for Photoelectrode Design
In-situ Electrochemical and ex-situ Synchrotron Studies on Lithium Ion Battery Materials
Gas Sensors from Metal Oxide Nano-Particles
---
---
---
Funding Agencies