Ceramic Electrodes and Electrolytes
The Braun Group researches on renewable energy sources for a safe, clean environment and a sustainable energy economy. Focus is the discovery and elucidation of principal mechanisms, which control behavior and properties of ceramics, in particular the correlation between materials structure and transport properties for electrochemical storage and conversion systems, the interaction of surfaces with gases, liquids, light, and organic matter.
For the understanding of structure-property relationships on the mesoscopic and molecular scale, we employ operando and in situ synchrotron x-ray and neutron scattering and spectroscopy, along with electrochemical and electroanalytical techniques. We collaborate with high profile partners worldwide.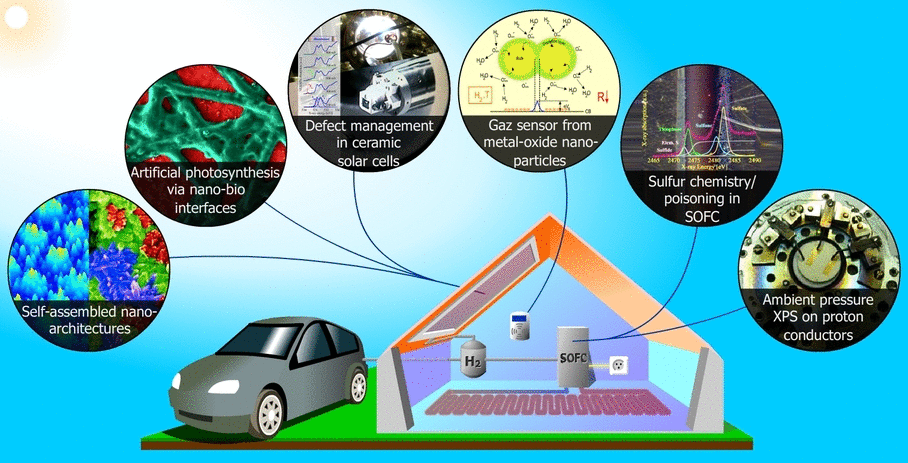 Our Research Topics
Photoelectrochemical cells (PEC) for solar hydrogen, ammonia and CO2 reduction
Semiconductor photoelectrochemistry
Neutron and X-ray methods for analysis of solid oxide fuel cell materials, cells, and stacks
Nano-bio hybrid structures for artificial photosynthesis
Development of neutron and X-ray operando in situ electrochemical methods for
Gas sensors from metal oxide nano-particles
Charge transport and charge carrier dynamics
News 28 September 2023: Manuscript accepted by Advanced Science (Wiley IF 17): "Entropy and Isokinetic Temperature in Fast Ion Transport", by Du, Peng; Zhu, Hong; Braun, Artur; Yelon, Arthur; Chen, Qianli.
News 15 September 2023: Dr. Kwanele Kunene and Dr. Loghman Jamilpanah interview each other for the COgITOR project.
News 30 August 2023: We congratulate our ESKAS Fellow Dr. Kwanele Kunene for her new position at Chalmers University in Sweden.
News 18 July 2023: NCSU Professor Michael F. Dickey visits our lab and delivers a seminar presentation to staff and students. Sponsored by EU COgITOR project.
News 9-13 July 2023: Prof. Joey Ocon and Dr. Donn Matienzo visit our lab and deliver seminar presentation. Sponsored by ASEAN Aurora project.
News 23 May 2023: ASU Battery Professor Candace Chan visits our lab and delivers a seminar presentation to staff and students. Sponsored by EU OpMetBat project.
News May 2023: PhD student and Postdoc, now Professor Debajeet K. Bora in Morocco, in German ZDF TV on solar hydrogen and climate
Projects & Funding Agencies
| Project Akronym | Description | Logo | Period |
| --- | --- | --- | --- |
| 3DCyan | 3D Printed Algal Biophotoelectrochemical Reactor For PV And Solar Fuel Production | Korean-Swiss Science and Technology Programme (KSSTP) | 2023-2026 |
| Aurora | Renewable Ammonia with Univ. of the Philippines Diliman, Prof. Joey Ocon | | 2023 |
| OpMetBat | Operando metrology for energy storage materials | | 2022 - 2025 |
| HySPARC | Sustainable hydrogen production in space by radiation hard cyanobacterial biofilms in a photoelectrochemical (PEC) system using boron-doped diamond (BDD) electrodes | | 2022 - 2025 |
| COgITOR | A new colloidal cybernetic system towards 2030 | | 2021 - 2025 |
| ESKAS | Electrosynthesis of Ammonia (South Africa) | | 2022 - 2023 |
| PROTONIQUE 3 | Proton conductivity in epitaxial strained thin films | | 2021 - 2025 |
| PHOGAM | Flanders/Swiss Lead Agency Process: Charge and energy transfer between cyanobacteria and semiconductor electrodes under gamma-irradiation | | |
| SUNRISE | Solar Energy for a Circular Economy | | |
| Yonsei | Electrochemistry of the thylakoid membrane - metal oxide electrode assemblies | | |
| GIST | SNF Korean Swiss project: Molecular and physical aspects of dye sensitization of photoelec-trodes with copper-based sensitizer molecules | | |
| SSAJRP | Production of Liquid Solar Fuels from CO2 and Water: Using Renewable Energy Resources | | |
| Pattern Formation for PEC | Reaction-diffusion processes for the growth of patterned structures and architectures: A bottom-up approach for photoelectrochemical electrodes | | |
| PEC EPFL | Defects in the bulk and on surfaces and interfaces of metal oxides with photoelectrochemical properties: In-situ photoelectrochemical and resonant x-ray and electron spectroscopy studies | | |
| NANOPEC | Nanostructured Photoelectrodes for Energy Conversion | | |
| SOFC-Life | Solid Oxide Fuel Cells – Integrating Degradation Effects into Lifetime Prediction Models | | |
| MetInsTra | X-ray and electrochemical studies on solid Oxide fuel cells and related materials | | |
| HITEMPECHEM | X-ray and electrochemical studies on solid Oxide fuel cells and related materials | | |
Organized Conferences, Symposia & Workshops
| Year | Role | Event | Participants | Location |
| --- | --- | --- | --- | --- |
| 2024 | Co-Organizer Artur Braun, with Minkyu Son, Danielle J. Mai, Newayemedhin Aberra Tegegne | MRS Spring Meeting Symposium on bio inspired soft robotics | | Seattle, USA |
| 2023 | Area Coordinator Artur Braun, with Gesa Beck | EUROMAT H: Materials for Circularity and Sustainability | | Frankfurt, Germany |
| 2021 | Co-Organizer Artur Braun, with Nicolas Gaillard, Elena Rozhkova | PACIFICHEM, Hawai'i / Symp. Artificial Photosynthesis | | Honolulu, Hawai'i, USA |
| 2019 | Lead-Organizer Artur Braun, Rita Toth | SUNRISE Flagship Stakeholder Workshop | 30 | Empa, Switzerland |
| 2017 | Co-Organizer Rita Toth, with Mmantsae Diale, | MRS Fall Meeting Symposium | | Boston MA, USA |
| 2017 | Co-Organizer Artur Braun | ALS User Meeting Workshop: Synchrotron Bio Materials | 30 | Berkeley CA, USA |
| 2015 | Co-Chair Artur Braun, with Hongyou Fan, Ken Haenen, Lia Stanciu, Jeremy A. Theil | MRS Spring Meeting 2015 | 5'500 | San Francisco CA, USA |
| 2015 | Lead Artur Braun | Int'l Expl. Workshop PEC, Cat. & X-ray | 30 | Empa, Switzerland |
| 2013 | Lead Artur Braun | Int'l Expl. Workshop X-ray Electrochemistry | 30 | Empa, Switzerland |
| 2013 | Co-Organizer Artur Braun, with Arndt Remhof, | ESS Science Symposium: Future Energy | 40 | PSI/SINQ, Switzerland |
| 2013 | Co-Organizer Artur Braun, with Elena Rozhkova | MRS Spring Meeting Symposium Artificial Photosynthesis | 100 | San Francisco CA; USA |
| 2012 | Co-Organizer Artur Braun | MRS Fall Meeting; Symposium Frontier Chemical Imaging | 100 | Boston MA, USA |
| 2012 | Co-Organizer Artur Braun | MSE Symposium D4 "Thin Films", Darmstadt | 40 | Darmstadt, Germany |
| 2011 | Lead Organizer Artur Braun | MRS Spring Symposium on Protons in Solids | 80 | San Francisco CA, USA |
| 2011 | Co-Organizer Artur Braun | E-MRS Spring Meeting Symposium, Materials for solar hydrogen | 80 | Nice, France |
| 2010 | Lead Organizer Artur Braun | MRS Spring Symp Energy Materials Synchrotron Neutron | 100 | San Francisco CA, USA |
| 2010 | Lead Organizer Artur Braun, with Clemens Heske, Matthew Marcus, Jingha Guo | Advanced Light Source Users Meeting Workshop | 25 | Berkeley CA, USA |
| 2009 | Lead Organizer ArturBraun, with P. Alivisatos , Egbert Figgemeier , John Turner , Jinhua Ye | MRS Spring Meeting Symposium Photoelectrochemistry | 250 | San Francisco CA, USA |
| 2009 | Lead Organizer Artur Braun,with Clemens Heske, Jinghua Guo, Hendrik Bluhm | ALS Users Meeting Workshop Soft X-Ray Renewable Energy | 25 | Berkeley CA, USA |
| 2008 | Co-Organizer Selma Erat | Empa PhD Symposium | | St. Gallen, Switzerland |
| 2006 | Assistant of Organizer, with Peter Holtappels | MODVAL3 Workshop Modelling & Validation Fuel Cells | 40 | Empa, Switzerland |
Presentations by Group Members, Visitors & Guests
Name
Affiliation
Title
Conference
Place
Date
MSc Nora Colson
Hasselt Univ., Braun Group
Welcome Presentation
Internal: ESA HySPARK Project
Empa Dübendorf
1 September 2023
Dr. Kwanele Kunene
Braun Group
Farewell Presentation of ESKAS Fellow
Internal: ESKAS Project
Empa Dübendorf
30 August 2023
Dr. Loghman Jamilpanah
Braun Group, Hug Group

Developing Metallic Multilayers Hosting Different Skyrmion Types Toward Local Control via Electric Fields (Poster)

13th Joint European Magnetic Symposia
Madrid, Spain
29 August 2023
Dr. Nikolay Ryzhkov
Braun Group

Electric polarization effect on photosynthetic efficiency, non-photochemical quenching and photovoltaic performance of intact Limnospira indica based photoelectrodes

20th Congress of the European Society for Photobiology

Lyon,
France
28 August 2023
Dr. Qing Chen
Braun Group

Multi-sensing and self-healing skin for robotic applications

ACS Fall Meeting 2023
San Francisco, California
16 August 2023
Prof. Michael Dickey
North Carolina State University
Shaping a soft future
COgITOR project seminar
Empa Dübendorf
19 July 2023
Prof. Joey Ocon & Dr. DJ Donn Matienyo
University of The Philippines Diliman

A Vertically Integrated Research Approach on Catalysis, Electrochemistry, and Energy Engineering

Seminar of the ASEAN Aurora Ammonia Electrosynthesis project
Empa Dübendorf
12 July 2023
Prof. Candace Chan
Arizona State University

Nanostructured Li7La3Zr2O12 Garnet Solid-State Electrolytes: Effect of Synthesis Route on Microstructure, Ionic Conductivity, and Lithium Stripping/Plating Behavior

OpMetBat project semina
Dübendorf, Empa
24 May 2023
Dr. Artur Braun
Empa

Parameterization of Proton Transport in Ceramic Electrolyte Membranes by Elastic Strain

Colloquim 636 of the European Mechanical Society

Besancon, France
23 May 2023
Dr. Qing Chen
Braun Group

Investigation of strain-induced deformation of polymer thin films with small-angle X-ray scattering (SAXS) as a tool for microstructural study

Colloquim 636 of the European Mechanical Society

Besancon, France
22 May 2023
Dr. Nikolay Ryzhkov
Braun Group

Electric Polarization Effect on Photosynthetic Performance of Limnospira Immobilized at Diamond-like Carbon Electrodes

35th Topical Meeting of the International Society of Electrochemistry

Gold Coast, Australia
9 May 2023
---
---
---
Alumni
| | | |
| --- | --- | --- |
| Name | Position in Group | Current Position |
| Selma Erat | PhD Student ETHZ | Professor, Mersin University |
| Renata Solarska | Postdoc, Swiss BfE | Professor, Warsaw University |
| Debajeet K. Bora | PhD Student Uni Basel | Professor, Ben Guerir University, Morocco |
| Qianli Chen | PhD Student ETHZ | Professor, Shanghai Jiao Tong University, China |
| Ramin Matloub Aghdam | MSc Student KTH | PhD EPFL, Entrepreneur, PIEMACS Sarl, Lausanne |
| Kwanele Kunene | ESKAS Postdoc Fellow | Chalmers University, Sweden |
| Jean-Claude Tinguely | MSc Student FH Vorarlberg | PhD, Researcher at Tromoso, University of the Arctic, Norway, |
| Jean-Pierre Pierog | MSc Student Univ. de Montpellier | ALSTOM, Engineer |
| Romy Löhnert | BSc Student Ernst Abbe hochschule Jena | PhD, Ernst Abbe hochschule Jena |
| Dorota Flak | PhD Student AGH | Staff Scientist, Poznan University |
| Simon Tymen | MSc Student Univ. de Pau | PhD Berlin, Univ. de Nantes |
| Mateusz Schabikowski | MSc Student AGH | Adjunct, Polish Acad. of Sciences |
| Min-Kyu Son | Postdoc | Senior Researcher, KICET, Korea |
| Nikolett Nagy | BSc Student, Univ. of Szeged | MSc Univ. of Szeged |
| Krzysztof Szastak | MSc Student, AGH Krakow | Project Manager |
| Mahabubur Chowdhoury | Visiting Scientist, CPUT, Cape Town | Professor, CPUT, South Africa |
| Edvinas Navickas | PhD Student TU Wien | Infineon Technologies |
| Yelin Hu | PhD Student EPFL | BASF |
| Florent Boudoire | PhD Student Uni Basel | R&D Engineer CSEM, Neuchatel |
| Itani Madiba | PhD Student UNISA | Senior Researcher, Univ. of South Africa, Pretoria |
| Gareth-John Moore | MSc Student U Pretoria | PhD Uni Berne, RP Photonics AG |
| Kelebogile D. Mmabong | PhD Student U Pretoria | Senior Lecturer, Univ. of Botswana |
| Niels Burzan | MSc Student Uni Basel | PhD EPFL Lausanne |
| Gunnar Nurk | Scientist | Senior Researcher, Tartu University |
| Michel Prestat | Scientist | Senior Researcher, French Corrosion Institute |
| George Tsekouras | Postdoc | Research Fellow, Australian National University |
| Jianjun Wang | Postdoc | Professor, Shandong University |
| Tzu-Wen Huang | Postdoc | Sensor Industry, Switzerland |
| Alejandro Ovalle | Postdoc | Teaching |
| Rita Toth | Scientist | Coaching & Counseling |
| Songhak Yoon | Scientist | Staff Scientist, Fraunhofer IWKS |
| Krisztina Schrantz | Scientist, Asst.-Professor | Head EHSS, SOLVO Biotech |