Agenda
Slides of the presentations are available on the WMO/GAW website
Sunday, 27 August 2017

18:00

20:00

Ice Breaker

Monday, 28 August 2017

08:00

09:00

Registration

09:00

09:10

Welcome and Opening Remarks, *Brigitte Buchmann

09:10

09:30

News from the GAW secretariat, *Oksana Tarasova

Quality Assurance, GHG Standards & Comparison Activities
Chair: Paul Krummel

09:30

09:50

T01- Uncertainties of NOAA GHG measurements from discrete air samples and
zonal means, *Ed Dlugokencky

09:50

10:10

T02- Efforts to separately report random and systematic measurement
uncertainty for continuous measurements in the NOAA Global Greenhouse Gas
Reference Network,*Arlyn Andrews

10:10

10:40

Photo and Coffee Break

Quality Assurance, GHG Standards & Comparison Activities
Chair: Martin Steinbacher

10:40

11:00

T03- An update of comparisons of non-CO2 trace gas measurements between
AGAGE and NOAA at common sites, *Paul Krummel

11:00

11:20

T04- Revision of the WMO CO2 calibration scale, *Brad Hall

11:20

11:40

T05- An update on the WMO CO X2014A scale, *Andrew Crotwell

11:40

12:00

T06- The result of the first SF6 inter-comparison Experiment (SICE) 2016-2017,
*Haeyoung Lee

12:00

12:20

T07- A new method to produce SI-traceable, primary calibration standards for
halogenated greenhouse gases, *Myriam Guillevic

12:20

13:40

Lunch Break

Quality Assurance, GHG Standards & Comparison Activities
Chair: Paul Krummel

13:40

14:00

T08- Quality assurance and quality control of the upcoming ICOS-RI atmospheric
dataset, *Michel Ramonet

14:00

14:20

T09- QA/QC of IAGOS NRT GHG data, *Christoph Gerbig

14:20

14:40

T10- WCC-Empa – Activities and Achievements, *Christoph Zellweger

14:40

15:10

Recommendations A: QA/QC, Standards and Comparisons, Chapters 1, 2, 6, 9:
Calibration of GAW Measurements, CO, CH4 and CO2 Calibration
Lead: Andrew Crotwell, Rapporteur: Christoph Zellweger

15:10

15:40

Coffee Break

15:40

16:40

Speed talks for Posters "Site and Network Updates"

16:40

18:30

Poster Session

Tuesday, 29 August 2017

Isotope Measurements - Chair: Joachim Mohn

08:30

08:50

T11- Introduction: Data Quality Objectives for stable isotopes in greenhouse
gases: current status and future needs, *Sergey Assonov

08:50

09:10

T12- Delta-13C scale realisation based on the primary Reference Materials in the
form of carbonates, *Sergey Assonov

09:10

09:30

T13- JRAS-06: Keeping up with changing internationally-distributed, light-
element stable isotopic reference materials, *Heiko Moossen

09:30

09:50

T14- Maintaining quality with quantity: lessons learned in the corrections and
calibrations of INSTAARs large isotopic dataset, *Sylvia E. Michel

09:50

10:10

T15- Measurement and Calibration Uncertainty in the CSIRO atmospheric CO2
Stable Isotope Program, *Colin Allison

10:10

10:40

Coffee Break

Isotope Measurements - Chair: Sergey Assonov

10:40

11:00

T16- On the calibration of isotopologue-specific optical trace gas analysers,
*David Griffith

11:00

11:20

T17- Calibration strategies for FTIR and other IRIS instruments for accurate δ13C
and δ18O measurements of CO2 in air, *Edgar Flores

11:20

11:40

T18- Gaseous reference materials to underpin measurements of amount
fraction and isotopic composition of greenhouse gases, *Paul Brewer

11:40

12:00

T19- Using Isotopic Fingerprints to Trace Nitrous Oxide in the Atmosphere,
*Joachim Mohn

12:00

12:20

T20- Methane isotopes – clues to the budget changes: and the need for
independent isotopic measurement programs, *Euan Nisbet

12:20

14:00

Lunch Break (including vendor presentations for final 60 minutes)

13:00

13:15

Air Liquide

13:15

13:30

Decentlab

13:30

13:45

Mirico

13:45

14:00

LosGatos

14:00

17:30

Side event: -Metrology for Stable Isotope Reference Standards (SIRS)
stakeholder meeting

Urban Networks and Megacities - Chair: Jooil Kim

14:00

14:20

T21- Integrated urban Greenhouse Gas Information System (IG3IS): Advances in
the urban GHG monitoring implementation plan and results of previous and
current city-scale studies, *Felix Vogel

14:20

14:40

T22- Detection of trends in urban CO2 emissions: Results from the INFLUX
tower network, *Natasha Miles

14:40

15:00

T23- The North-East Corridor: Baltimore-Washington DC Urban Greenhouse Gas
Network, *Anna Karion

15:00

15:30

Coffee Break

Site and Network Updates - Chair: Lingxi Zhou

15:30

15:50

T24- Amazon Greenhouse Gas Measurement Program, *Luciana V. Gatti

15:50

16:10

T25- CO2, CH4, and CO with CRDS technique at the Izaña Global GAW station:
instrumental tests, developments and first measurement results,
*Angel J. Gomez-Pelaez

16:10

16:30

T26- Atmospheric CO2 and other greenhouse gases monitoring in India,
*Yogesh K. Tiwari

16:30

17:00

Recommendations C: Urban Networks, Site and Network Updates,
Chapters 11 & 12 - Lead: Felix Vogel, Rapporteur: Casper Labuschagne

17:00

18:00

Poster Session

18:00

19:00

Side event: -Discussion on Stable Isotopes Recommendations

18:00

19:00

Side event: -Discussion on Shipboard Atmospheric CO2 Measurement
Recommendations

Wednesday, 30 August 2017

08:10

08:40

Recommendations B: Isotope Measurements, Chapters 3, 4: Stable isotopes
and radiocarbon - Lead: Sergey Assonov, Rapporteur: Bruce Vaughn

Measurement Techniques & Calibration - Chair: Zoe Loh

08:40

09:00

T27- Fractionation of O2/N2, Ar/N2, and CO2 at Aircraft Sampling Inlets,
*Britton Stephens

09:00

09:20

T28- Comparison of interferometric and mass spectrometric measurements of
O2/N2 by the Scripps O2 program, *Ralph Keeling

09:20

09:40

T29- Preparation of high precision standards (with ± 1 ppm) using a gravimetric
method for measuring atmospheric oxygen, *Nobuyuki Aoki

09:40

10:00

T30- Towards the Unifying of the Detection Systems for the Measurement of the
Major Greenhouse Gases and Related Tracers, *Blagoj Mitrevski

10:00

10:30

Coffee Break

Measurement Techniques & Calibration - Chair: Arlyn Andrews

10:30

10:50

T31- Calibration and Field Testing of Cavity Ring-Down Laser Spectrometers
Measuring Methane Mole Fraction and Isotopic Ratio Deployed on Towers in
the Marcellus Shale Region, *Natasha Miles

10:50

11:10

T32- Adaptation of a commercial greenhouse gas analyser for airborne
measurements with expanded altitude range and application on the ORCAS
and ATom campaigns, *Kathryn McKain

11:10

11:30

T33- A new lightweight active stratospheric air sampler, *Joram Hooghiem

11:30

12:00

Recommendations D: Measurement Techniques & Calibration,
Chapters 5, 7, 8, 10: Calibration of O2/N2, N2O, SF6 and H2 Measurements
Co-Lead/Rapporteur: Britt Stephens and Brad Hall

Emerging Techniques - Chair: Christoph Gerbig

12:00

12:20

T34- Low-cost sensors for CO2 monitoring: calibration, characterization and
assessment, *Lukas Emmenegger

12:20

14:00

Lunch Break (including vendor presentations for final 45 minutes)

13:15

13:30

Picarro

13:30

13:45

Aerodyne

13:45

14:00

Ecotech

14:00

14:20

T35- Measurements of atmospheric oxygen using a newly built CRDS analyzer
and comparison with a paramagnetic cell and an IRMS, *Markus Leuenberger

14:20

14:40

T36- Microwave sensing column oxygen amounts for surface air pressure and
greenhouse gas mixing ratio estimates, *Bing Lin

14:40

15:00

T37- The AirCore atmospheric profiler: methods, challenges, applications,
and updates, *Jonathan Bent

15:00

15:20

T38- A UAV-based active AirCore system for accurate measurements of green
house gases, *Truls Andersen

15:20

15:50

Coffee Break

17:00

19:00

City tour of historical Zurich

19:00

Conference Dinner

Thursday, 31 August 2017

Emerging Techniques - Chair: Michel Ramonet

08:30

08:50

T39- Stratospheric measurements of ozone-depleting substances and
greenhouse gases using AirCores, *E. Leedham Elvidge

08:50

09:10

T40- APRECON-TOF-MS: A new state-of-the art instrument for the analysis of
halogenated greenhouse gases, *Martin K. Vollmer

09:10

09:40

Recommendations E: Emerging Techniques
Lead: David Griffith, Rapporteur: Huilin Chen

Ocean Measurements, Chapter 13 - Chair: Martin Vollmer

09:40

10:00

T41- Medusa-Aqua System: Development of Analytical Techniques for Novel
Halogenated Transient Tracers in the Ocean, *Pingyang Li

10:00

10:20

T42- Fifteen years of surface water CO2 measurements from cruise ships in the
Caribbean Sea, *Rik Wanninkhof

10:20

10:50

Coffee Break

10:50

11:10

T43- Towards including atmospheric CO2 data from the oceanic community into
the global high-accuracy atmospheric CO2 network, *Penelope A. Pickers

11:10

11:30

T44- The PGGM measurements of atmospheric carbon dioxide concentrations
over the Asia-Pacific and the Asia-Europe commercial shipping routes: The 2009-
2017 results, *Kuo-Ying Wang

11:30

11:50

T45- Atmospheric CO2, CH4 and N2O mixing ratios in the China sea-shelf
boundary layer during the spring 2017 campaign, *Lingxi Zhou

11:50

12:20

Recommendations F: Ocean Measurements
Lead: Rik Wanninkhof, Rapporteur: Hideki Nara

12:20

13:20

Lunch Break

Data Products and Policy - Chair: Alex Vermeulen

13:20

13:40

T46- Updated Guidelines for Atmospheric Trace Gas Data Management, *John Mund

13:40

14:00

T47- Introduction of new WDCGG website, *Seiji Miyauchi

14:00

16:00

Expert group recommendations
Lead: to be assigned, Rapporteur: to be assigned

MEETING CLOSE and Coffee
Posters Quality Assurance, GHG Standards & Comparison Activities

P01

Mobile Laboratory improving the data quality of ICOS atmospheric station
network, *Hermanni Aaltonen

P02

5 years of ICOS compliant in situ GHG measurements at OPE: set up, quality
control and calibration system, *Sébastien Conil

P03

Optimal dry cylinder sequencing on Picarro G2301 and G2401 CRDS instruments,
*Rebecca Gregory

P04

Quality control of flask sample data using Ar/N₂ measurements, *Armin Jordan

P05

Comparison of Picarro and Los Gatos analysers for CO and N2O at
Hohenpeissenberg, *Dagmar Kubistin

P06

Update of Operation of the Flask and Calibration Laboratory for ICOS (Integrated
Carbon Observation System), *Daniel Rzesanke

P07

QA/SAC Switzerland – Activities and Achievements, *Martin Steinbacher

Posters Isotope Measurements

P08

Methane in Hong Kong: isotopic characterisation of local and regional methane
sources, *Rebecca Fisher

P09

European atmospheric 14CO2 activities within the ICOS-RI network,
*Samuel Hammer

P10

Simultaneous field-scale in-situ measurements of the four most abundant N2O
isotopocules, *Erkan Ibraim

P11

High precision spectroscopic measurement of N2O clumped isotopic species,
*Kristýna Kantnerová

P12

Development of new N2O reference materials for d15N, d18O and 15N site
preference within the EMPIR project SIRS, *Joachim Mohn

P13

14CO2 measurements from Baring Head, New Zealand, Rowena Moss

P14

Performance of radiocarbon analysis using NIES-CAMS and initial results for air
samples obtained in Indonesia, *Yumi Osonoi

P15

Towards SI traceability for CO2 isotope ratios: Identifying sources of error in
optical spectroscopy measurements, *Craig Richmond

P16

Measurement of nitrous oxide isotopomers in air, *Peter Sperlich

P17

Stable isotope and mixing ratio measurement of atmospheric CO2 over India,
*Tania Guha, Yogesh K. Tiwari

P18

Pilot study measuring N2O mole fraction, δ15Nbulk-N2O, δ15Na-N2O, and
δ15Nb-N2O using Picarro G-5101i instrument reveals analytical challenges,
*Bruce H. Vaughn

P19

Measurement of N2O isotopes at the high-altitude station Jungfraujoch,
*Longfei Yu

P20

Evaluation of methane sources by isotopic analysis in central London,
*Giulia Zazzeri

Posters Measurement Techniques & Calibration

P21

Inter-comparison study of European atmospheric 222Rn and 222Rn progeny
monitors, *Claudia Grossi

P22

Evaluation of an OA-ICOS (Off-axis Integrated Cavity Output Spectrometer) for
N2O measurements at Schauinsland station, *Johannes Gry

P23

Estimation of BG CO2 concentration from CRDS measurements at AMY site in
South Korea using Quality Assurance Flagging Codes, *Sang-Ok Han

P24

Synthesis and evaluation of near real air CO2 reference gas, *Keiichi Katsumata

P25

Replacement of CH4 calibration system for WCC-JMA, *Teruo Kawasaki

P26

Stability and Material Testing Results of Aluminum Cylinders and Regulator
Comparisons, *Duane Kitzis

P27

Causes of Instability in the Relative Abundance of the Major Constituents of
Reference Air in High-Pressure Tanks, *Eric J. Morgan

P28

Investigation of adsorption / desorption behavior of high pressure small volume
cylinders and its relevance to atmospheric trace gas analysis, *Ece Satar

P29

11-year statistics for in-situ CO2 data obtained in airliner project of CONTRAIL,
*Yousuke Sawa

P30

A Nafion-based air sample dryer for atmospheric flask sampling allowing
accurate measurements of CO2 and its stable isotopes in humid air,
*Hubertus A. Scheeren

P31

Potential bias in the NOAA manometric measurement system,
*Michael F. Schibig

P32

Comparison of in situ N2O and CO measurements using gas chromatography,
reduction gas analysis and off-axis integrated cavity output spectroscopy,
*Kieran Stanley

P33

Quantifying Nafion cross-membrane CO2 and CH4 gas leakage and it's
dependence on sample mole fraction and water content, *Ann Stavert

P34

Optimisation of the Spectronus FTIR instrument for tall tower greenhouse gas
observations, *Alex Vermeulen

Posters Emerging Technique

P35

Developing a lower-cost medium precision urban GHG monitoring system using
commercial NDIR sensors, *Emmanuel Arzoumanian

P36

High-resolution Mobile Measurements of Methane Concentrations and Fluxes
Using High-Speed Open-Path Technology on Cars, Ships, Airplanes, Helicopters
and Drones, *George Burba

P37

The automated air sampler for the ICOS network, *Markus Eritt

P38

Measurement of greenhouse gases from novel ground-based remote sensing
instruments; the FRM4GHG campaign at the Sodankylä TCCON site, N. Finland,
*Mahesh Kumar Sha, David Griffith

P39

Technical challenges of using high precision atmospheric O2 measurements as
a tracer for determining carbon fluxes in terrestrial ecosystems,
*Penelope A. Pickers

Posters Ocean Measurements

P40

Continuous observation of atmospheric oxygen concentration onboard a cargo
ship sailing between Japan and North America, *Yu Hoshina

P41

Japan Meteorological Agency's ship-based observations for carbonate
parameters in the surface and interior ocean, *Shinji Masuda

P42

Long-term monitoring of atmospheric greenhouse gases and data validation in
NIES-VOS program, *Hideki Nara

Posters Urban Networks and Megacities

P43

CarboSense: a low-cost low-power CO2 network for the city of Zurich and
Switzerland, *Antoine Berchet

P44

Continuous Near-IR and Mid-IR CRDS Measurements of Atmospheric CO2, CH4,
N2O, and CO in the Megacities Los Angeles Network: Design Criteria, *Jooil Kim

P45

New monitoring project of GHGs and air pollutants around Jakarta, Indonesia,
*Masahide Nishihashi

P46

Start of greenhouse gases and related tracer measurements at Tokyo Megacity,
*Yukio Terao

Posters Site and Network Updates

P47

Trace gas mixing ratios, carbon, water, and energy exchanges measurements at
ARM facilities, * Sébastien C. Biraud

P48

Greenhouse Gases: Background Concentrations in Brazilian coast, *V. F. Borges

P49

Observations and modelling combine to inform network developments,
*Gordon Brailsford, Rowena Moss

P50

"CASLab": The United Kingdom's Clean Air Sector Laboratory at Halley Research
Station, coastal Antarctica, *Neil Brough

P51

The Franco-Belgian greenhouse gases monitoring program at La Réunion Island,
*Jean-Pierre Cammas

P52

Long Term Nitrous Oxide Measurements Over Amazon Basin Using Small
Aircraft, *C. S. C. Correia

P53

Continuous observations of CO2, CH4 and O3 in the boundary layer of the
central Mediterranean basin, *Paolo Cristofanelli

P54

Carbon Monoxide Measurements as a Biomass Burning Tracer at the Amazon
Basin, *L. G. Domingues

P55

Amazon Basin and Brazilian Coast SF6 Study in a 15 Years Time Series,
*R. S. Santos

P56

Atmospheric molecular hydrogen (H2) at the WMO/GAW stations in China,
*Shuangxi Fang

P57

Japanese observation programs of atmospheric greenhouse gases in polar
regions, *Daisuke Goto

P58

First results of tall tower surface-atmosphere N2O flux measurements over a
mixed agricultural region in Central Europe, *László Haszpra

P59

Recent updates from the Cape Point long-term data records,
*Casper Labuschagne

P60

Atmospheric CO2/CH4/CO measurements at the Amazon Tall Tower
Observatory (ATTO, Brazil), *Jost V. Lavric

P61

Combined balloon, aircraft, and surface greenhouse gas measurements at
Traînou supersite, France, *Céline Lett

P62

Atmospheric nitrous oxide observations at Mount Waliguan station in China,
from 1995 to 2014, *Miao Liang

P63

The Australian Greenhouse Gas Observation Network – where we are and
where we are heading, *Zoë Loh

P64

Atmospheric CH4 and N2O measurements at Suva, Fiji, *Francis S. Mani

P65

MOYA and Equianos: UK methane measurement and GHG monitoring,
*Euan G. Nisbet

P66

Atmospheric greenhouse gas concentrations for five years over a tropical forest
in Borneo Island, *Shohei Nomura

P67

Monitoring of Greenhouse Gases with in situ FTIR in East Anglia, UK, as part of a
regional sampling network, *Hannah Sonderfeld

P68

Implementation of New Greenhouse Gas Measurements in Cholpon Ata,
Kyrgyz Republic, *Martin Steinbacher

Posters Data Products and Policy

P69

ICOS ATC near real time greenhouse gases data: from collection to model
validation on the importance of proper water correction and primary scale
propagation, *Amara Abbaris, Léonard Rivier

P70

Data Services for Carbon Cycle Science at the ICOS Carbon Portal,
*Alex Vermeulen
Social Event
The social event on Wednesday afternoon will be a guided walk through historical Zürich (max. 50 persons). Alternatives are exploring Zurich by your own, visiting one of the Zürich museums, hanging-out at the lake and go for a swim. Detailed information will be provided during the conference.
Excursion
An excursion to the Research Station Jungfraujoch is planned for Friday 1. September 2017. There is limited availability for the excursion (max 50 persons) due to logistical reasons. Registration for the excursions closes when the maximum number is reached. Costs for the excursion to Jungfraujoch include bus transfer and train ticket to Jungfraujoch and lunch at Jungfraujoch. This will be a full-day trip, arrival at Zürich / Dübendorf at around 8 PM.
Alternatively, a visit of the Federal Institute of Metrology (METAS) is possible on Friday 1. September 2017. More information is available here. Please indicate your interest in visiting METAS by sending an email to Myriam.Guillevic. If you plan to come by car, please also indicate if you may have free seats for other interested participants. Practical information on how to get to METAS is available here.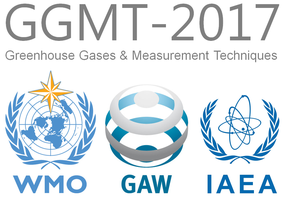 Links
Previous conference: GGMT-2015
WMO/GAW Report No. 229: 18th WMO/IAEA Meeting on Carbon Dioxide, Other Greenhouse Gases and Related Measurement Techniques (GGMT-2015)
WMO/GAW Report No. 213: 17th WMO/IAEA Meeting on Carbon Dioxide, Other Greenhouse Gases and Related Tracers Measurement Techniques (GGMT-2013)
Useful information
Important locations - Google Maps