Wet Coating and Printing Techniques in the Coating Competence Center (CCC)
The Coating Competence Center (CCC) hosts a unique sheet-to-product printing and coating system from the company nsm Schläfli AG. The C600 is a high-precision multifunctional printing and coating system, which allows high-precision multi-layer printing on flexible and rigid substrates.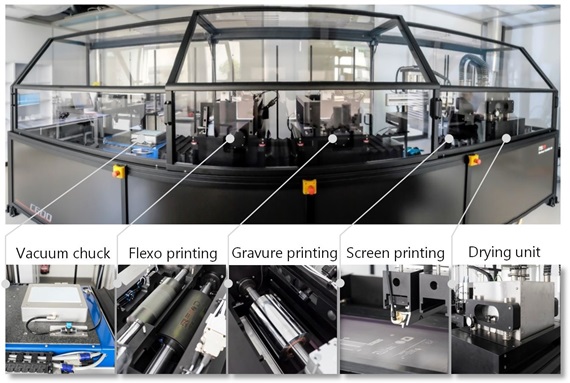 Challenger C600
The challenger C600 is equipped with the following printing and coating units:
Technical data and performance:
Maximum printing size: length 240 mm / width 170 mm
Printing speed: up to 1.5 m/sec with infinitely variable adjustment
Register and reproducibility: < 10 µm; printing of multilayers with a < 10 µm overprint accuracy
Very low ink consumption
Further coating technologies
Other available coating technologies include slot die coating (TSE Troller), gravure printing (Labratester Norbert Schläfli AG), spin-coating and blade-coating.
Our offer
The CCC offers a unique sheet-to-product pilot manufacturing environment for the development of printed electronics and printed functional devices. The C600 is especially designed to meet and exceed the high technical demands of printed electronics. Its unique register precision allows printing of multilayers with highest accuracy and allows for the design of complex structures.
We offer:
A facility that enables you to explore radically new manufacturing approaches for your product
Feasibility studies for printing processes
A printing technology platform for prototyping and low-volume manufacturing
An ISO class 6 cleanroom
An experienced R&D team in device manufacturing, printing technologies and chemistry
The R&D infrastructure of a renowned research institute with state-of-the-art analytical tools
Different models of collaboration