The Empa Research Award 2021 goes to …
A polymer patch for the abdominal cavity
Operations on the digestive tract involve particularly high risks. To enable wounds on the intestinal wall to be sealed tightly in the future, Empa researcher Alexandre Anthis has developed a patch that prevents dangerous leaks. Empa awarded him this year's research award for his work.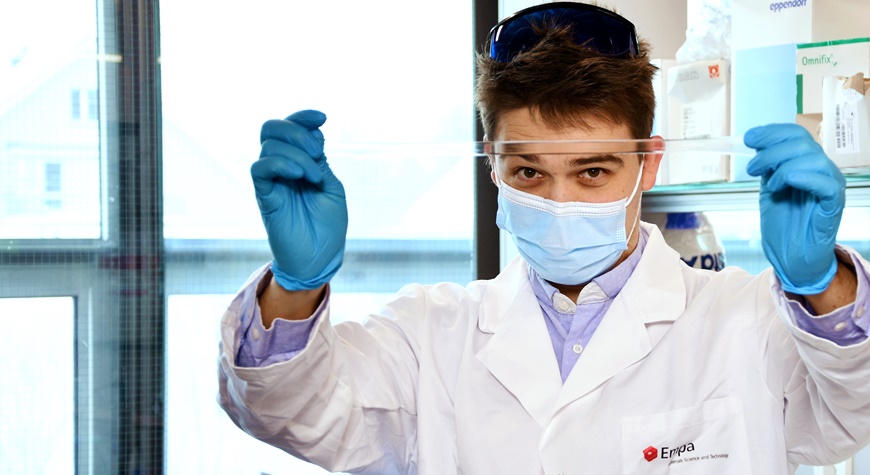 Closing wounds in the abdominal cavity is a challenge. Empa researcher Alexandre Anthis has therefore developed a polymer patch for the intestine that can be used to stably bond and seal internal injuries. The novel hydrogel material prevents corrosive digestive juices and germ-laden food debris from escaping the intestinal tract and causing peritonitis or even life-threatening blood poisoning (sepsis).
The design of the composite material is where its tailor-made effect lies: The rubber-like composite material reacts selectively with digestive secretions that could escape from internal wounds, swells and closes all the more tightly. The low-cost, biocompatible super glue, which consists largely of water, could thus shorten hospital stays and curb healthcare costs. Anthis reported his results in a publication.
Empa's Research Commission has now awarded the young researcher this year's research award for his development, partly because of its high relevance for applications in medical practice. Anthis even secured the maximum number of points in the evaluation – a first since the research award was established in 2003. The award ceremony took place on 30 November at Empa's annual PhD Symposium in Dübendorf.
Patent and start-up on the finish line
The committee also acknowledged Alexandre Anthis' excellent entrepreneurial skills. Not without reason: Together with Empa researcher Subas Scheibler, Anthis is currently founding the start-up company Veltist. As a spin-off of ETH Zurich and Empa, the future biomed company aims to develop and bring to market materials that will contribute to optimal wound closure and improved healing in surgery, thus helping to avoid the dreaded complications of sepsis or peritonitis.
Anthis worked on the fundamentals of this new sealing technology of internal wounds in Inge Herrmann's team at Empa's Particles-Biology Interactions laboratory in St. Gallen and ETH Zurich's Nanoparticle Systems Engineering laboratory. Together with clinical partners at the Kantonsspital St. Gallen and the Queen Elizabeth University Hospital in Birmingham/UK, Anthis was able to address the special challenges of internal wounds in the abdominal cavity for clinical applications. Moreover, Anthis has already filed a patent for his novel technology. Recently, the young researcher was also awarded one of the coveted ETH Pioneer Fellowships.
The Empa Research Award
The Empa Research Award is given every other year to recognize outstanding publications by Empa scientists. The award is primarily intended to promote young scientists and is therefore primarily aimed at younger researchers. Empa awarded the prize for the first time in 2003.