2nd Swiss & Surrounding Battery Days
August 26-28 2019
Empa, PSI, and BFH jointly organize the 2nd edition of the Swiss & Surrounding Battery Days taking place on August 26-28 at Empa Academy in Dübendorf. The aim of this event is to provide young Swiss researchers, active in the field of battery materials research and cell manufacturing, a platform to present their results and to connect to renowned battery researchers from the surrounding countries. The event offers a unique opportunity to strengthen and expand the network among and to the Swiss battery community. The scope of the event ranges from the synthesis and characterization of battery materials to their integration into electrodes and cells, including topics related to cell manufacturing. August 28 is reserved for talks concerning the European battery agenda and aspects of industrial cell manufacturing at scale.
Special information event on Wednesday, August 28, 13:30
The BATTERY 2030+ initative, status-quo, next steps, and ways to participate
Thank you all for joining us this year. See you next year at the 3rd Swiss & Surrounding Battery Days!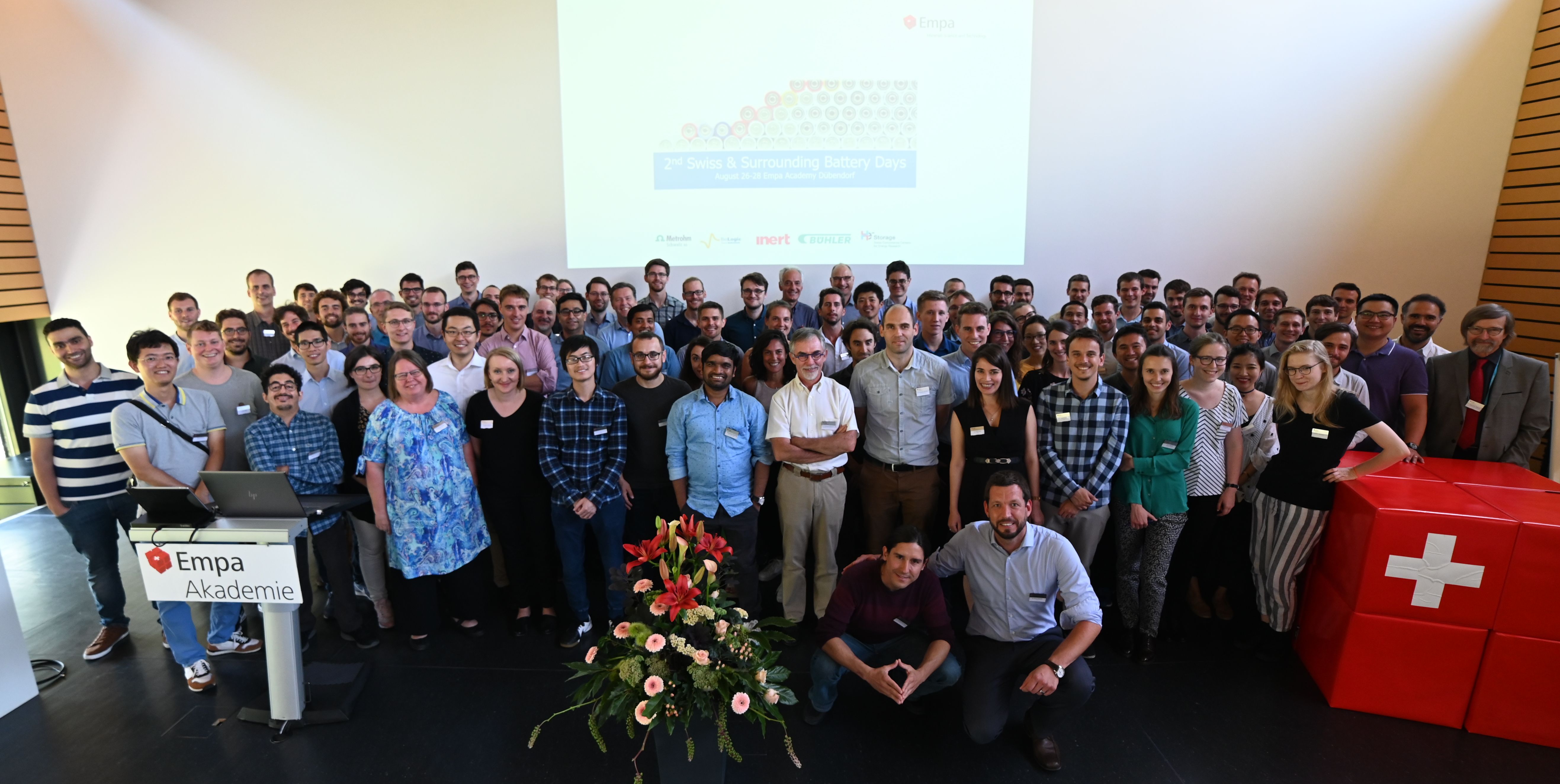 Venue
Empa Academy, Überlandstrasse 129, 8600 Dübendorf
Important dates
May 6 2019 Registration opening
May 6 2019 Abstract submission opening
June 28 2019 Abstract submission closing
July 19 2019 Notification abstract acceptance
August 18 2019 Registration closing
August 26-28 2019 Swiss & Surrounding Battery Days
Contact
swissbatterydays@empa.ch
Organizing committee
Dr. Corsin Battaglia, Empa
Daniela Isler-Schmid, Empa
Nadine Rieder, Empa
Scientific committee
Dr. Corsin Battaglia, Empa
Dr. Sigita Trabesinger, Paul Scherrer Institute
Dr. Mario El Kazzi, Paul Scherrer Institute
Prof. Axel Fürst, Berner Fachhochschule
International advisory board
Prof. Kristina Edström, Uppsala University
Dr. Dominique Guyomard, CNRS IMN & Université de Nantes
Prof. Stefano Passerini, Helmholtz Institute Ulm & Karlsruhe Institute of Technology
Prof. Petr Novák, Paul Scherrer Institute & ETH Zurich
Confirmed invited speakers
Prof. Kristina Edström, Uppsala University
Dr. Dominique Guyomard, CNRS IMN & Université de Nantes
Prof. Christian Masquelier, Université de Picardie Jules Verne
Prof. Tejs Vegge, Danemark Technical University
Prof. Patrik Johansson, Chalmers University of Technology
Bo Normark, The European Battery Alliance
Dr. Giulio Ferraresi, Dr. Simone Zürcher, Imerys Graphite & Carbon
Dr. Philipp Stössel, Bühler
Carlo Novarese, Faam Research Center (formerly Lithops)
Sponsors