Successful financing round for Empa spin-off Nahtlos
Textile electrodes for medtech applications
Nahtlos, an Empa spin-off, has received 1 million Swiss francs in a first round of financing from a network of business angels from Switzerland and Liechtenstein and from the Startfeld Foundation. With this funding, Nahtlos aims to drive the market entry of its newly developed textile-based electrode for medical applications.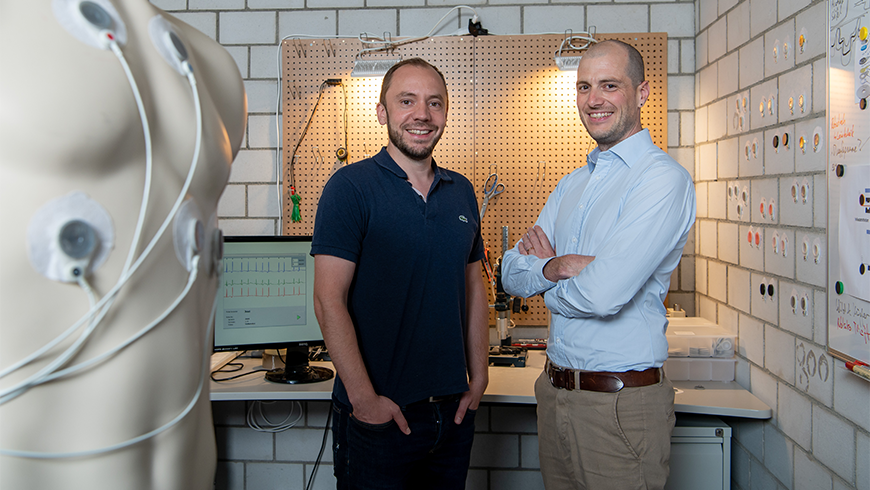 Over the past two years, Nahtlos, an Empa spin-off, has developed novel textile-based electrodes for recording heart activity (electrocardiogram, ECG) – for example, to detect atrial fibrillation – and for electrostimulation therapies, for example, to preserve the muscle mass in paralyzed patients. Textile-based electrodes enable gentle and skin-friendly application, even if the electrodes have to be worn for several days or even weeks. The textile electrode is thus the first alternative to the gel electrode, which was developed 60 years ago and is still considered the standard for medical applications today.
Nahtlos founder and former Empa researcher Michel Schmid and co-founder and business economist José Näf have further developed the textile-based technology, which was developed and patented at Empa in various projects funded by Innosuisse, among others. The goal was to produce a product for long-term medical applications that reliably records ECG signals for up to several weeks, achieves a high level of patient acceptance and is cost-effective for the healthcare provider. Today, the patent for textile-based electrode technology is owned by Nahtlos after reaching a milestone.
Financing by business angels and Startfeld Foundation
Schmid and Näf were looking for investors to certify their product, set up production and develop the market – and recently found what they were looking for: In a seed financing round, the two young entrepreneurs were able to acquire 1 million Swiss francs from business angels from Switzerland and Liechtenstein as well as from the Startfeld Foundation. Nahtlos was supported in setting up its company by Startfeld, the start-up promotion arm of Switzerland Innovation Park Ost (SIP Ost), in the form of coaching, consulting and early-stage financing. Nahtlos is also based in the Innovation Park Ost, where innovations are initiated and accelerated through collaboration between start-ups, companies, universities and research institutions.
Together with Empa and Nahtlos, SIP Ost will also be present at OLMA this year. At booth 45 in hall 3.1, visitors can learn live and on the spot about Empa's research activities in the field of Digital Health as well as about the Nahtlos technology and its textile electrodes for health monitoring.