"SAMPE Fellow Award" to Urs Meier
Award for pioneering CFRP achievements
On September 18, Urs Meier received a prestigious award for his achievements in the field of carbon fiber reinforced plastics in civil engineering - the "SAMPE Fellow Award". This award is presented in recognition of outstanding contributions in the fields of materials and processes.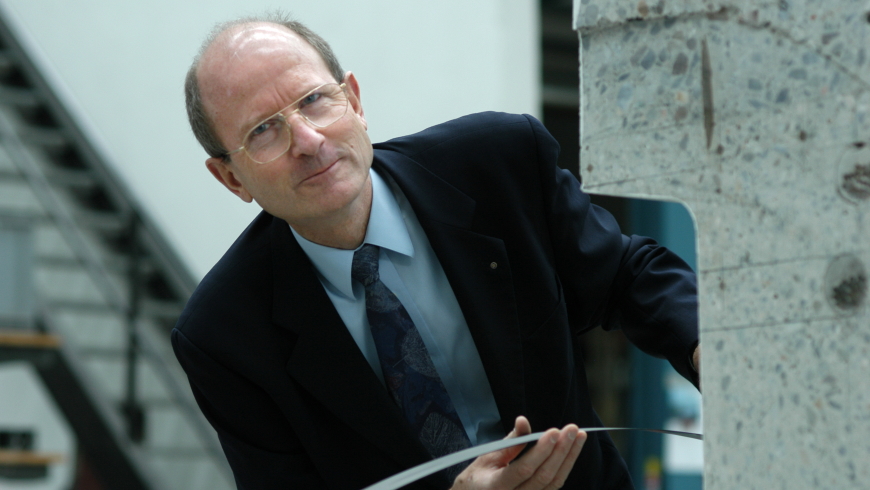 SAMPE is the "Society for the Advancement of Materials and Process Engineering", an international professional association with currently more than 15,000 members. The association was founded in 1944 by California aerospace engineers with the aim of establishing a professional network and improving the exchange of technical information. Today SAMPE is represented in 40 countries. As the only global technical society covering all areas of materials and process research, SAMPE provides a unique forum for scientists and engineers around the world.
A CFRP pioneer at Empa
Urs Meier has worked at Empa since 1969, 12 years of which as Director of Empa Dübendorf. He is an internationally recognised pioneer in the field of carbon fibre reinforced plastics (CFRP) in civil engineering and a driving force behind its further development. Meier started as early as 1980 with the idea of using CFRP for ropes in large bridge construction. The idea of using a "super material" in the construction industry, which had previously been reserved exclusively for space travel and military aviation due to its high price, was so crazy that he began to study it in secret. In 1982, the idea of reinforcing concrete structures by bonding extremely thin CFRP lamellas was born.
In 1987, Meier and a small team of enthusiastic young engineers demonstrated for the first time in an award-winning paper that existing bridges can actually be reinforced with CFRP lamellas. In 1991 he shaped the history of civil engineering with the world's first repair of a road bridge with three CFRP lamellas. The structural integrity of the bridge in the canton of Lucerne had been impaired by damage to its prestressing cables. One year later, the first building and the first historical structure followed, which were successfully reinforced with CFRP.
Urs Meier's other CFRP pioneering achievements include their use as cable-stayed bridge cables, the installation of fibre-optic sensors in retensioned bridge cables and the reinforcement of wooden bridges and beams with CFRP.
An impressive career
During his career, Meier obtained five US patents and published no less than 264 scientific and technical publications. He presented hundreds of lectures, courses and keynotes around the world to promote the use of composite materials, particularly CFRP in construction. Meier has already received a number of prestigious awards, including an honorary doctorate from the Royal Military College of Canada and the Staudinger-Durrer Medal from the Department of Materials Science at ETH Zurich. He was instrumental in supporting the founders of the Empa spin-off Carbo-Link during the difficult start-up phase. Today, the company has become a world leader in the production of highly sophisticated lightweight components for marine, aerospace and construction applications.
In Germany, a new, larger railway bridge is currently being completely suspended for the first time from tension elements made of carbon fibre-reinforced plastics (CFRP) produced by Carbo-Link on the basis of the Empa report by Meier. This milestone is part of a systematic series of Empa pilot projects, such as the Stork Bridge in Winterthur. In 1998, the risk of suspending the entire bridge from CFRP cables was still considered too great. Only two CFRP cables were used. Thanks to Empa's many years of research, it has now become possible to suspend entire bridges completely from this non-corroding, fatigue-resistant and lightweight material.
In his nomination for the "SAMPE Fellow Award" Scott Beckwith, technical director of SAMPE, explains that Meier has contributed more to CFRP research than any other current or former SAMPE member - he is considered a real "guru" in the field of composite materials in civil engineering. Meier's merits as a CFRP pioneer have now been honoured: SAMPE Director Gregg Balko presented him with the award at the SAMPE conference on 18 September 2019 in Nantes / France.