Now also a virtual experience
NEST to open its virtual doors
The research and innovation building NEST of Empa and Eawag can now be visited virtually at any time and from anywhere in the world. The launch of the virtual NEST tour is a further step towards closing the gap between laboratory research and market entry. By making numerous innovations, developed and demonstrated at NEST, accessible to a much broader and more international audience, the virtual NEST is making a significant contribution to ensuring that sustainable innovations in the building and energy sector can spread faster and thus gain a foothold in the construction industry.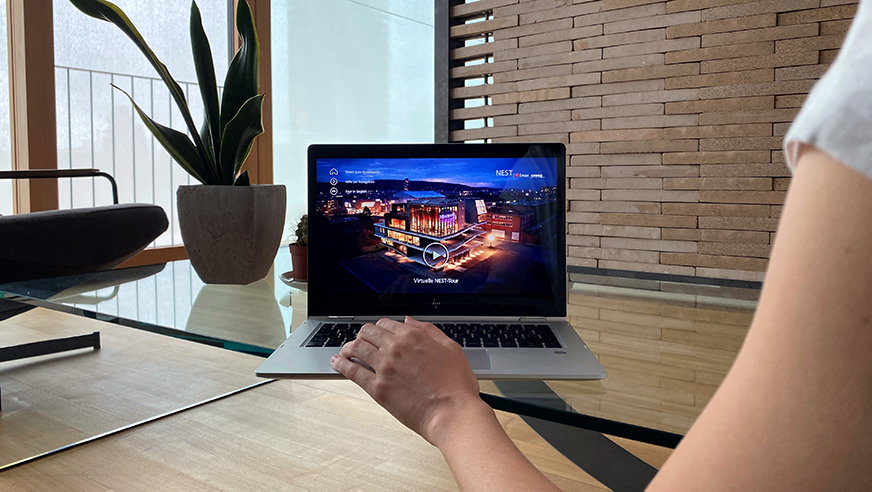 The modular research and innovation building NEST of the two research institutes Empa and Eawag opens its doors to the global public. Until now, guided tours of NEST have only taken place live and on site. Now, for the first time, the entire building can be visited online whenever one feels like it at
www.empa-virtual.ch/nest
.
Move freely, discover and experience in the virtual realm
Guests of the virtual NEST tour can visit the individual building modules – the so-called units – as well as the overarching research platforms – the Energy Hub (ehub) and the Water Hub – and move freely through the building. Among other things, the tour guids them to experts who share their know-how directly with the visitors. What's more, there are countless innovative materials, technologies and processes to discover. The virtual tour has been online since this week and can be accessed via desktop computer, smartphone and tablet. It features text, image, video as well as audio content. Peter Richner, Deputy CEO of Empa and responsible for NEST, on the expansion of the visitor programs: "The fact that NEST can now also be experienced virtually with the launch of the new tour is an important and up-to-date milestone. It is our vision to accompany new ideas on their way to innovations that succeed on the market. The virtual tour now offers direct insight into the numerous activities in and around NEST to a much wider audience."
Inspiration for building the future
At NEST, new technologies, materials and systems in the construction and energy sectors are tested and further developed without risk in order to accelerate the market entry of sustainable innovations in the building sector. To this end, researchers work together with partners from industry and the public sector and implement the new ideas in real building projects. Just as NEST is in constant flux, its virtual twin will grow with it.

In addition to the Water Hub and ehub, the following NEST units are already in operation and can now also be visited virtually:
Vision Wood: Wood innovations and modular construction
Meet2Create: New working environments
Solar Fitness & Wellness: Quality of life from the sun
Urban Mining & Recycling: Circular construction
SolAce: Harvesting sunlight
DFAB HOUSE: Digital fabrication and living
These NEST units are currently under construction or in planning:

Sprint: From dismantling to re-use as fast as possible
HiLo: Lightweight construction and adaptive façades
STEP2: Together towards marketable innovations