EU project for nanomedical innovations
Launch of first European nanomedicine lab
Empa, the Swiss Federal Laboratories for Materials Science and Technology, is part of the «European Nanomedicine Characterization Laboratory», a European project funded by the EU framework program «Horizon 2020». Its goal is to reach a level of international excellence in nanomedicine characterization for diseases like cancer, diabetes, inflammatory diseases or infections. This competence will be made accessible to all organizations developing candidate nanomedicines prior to their submission to regulatory agencies to get approval for clinical trials and, later on, for marketing authorization.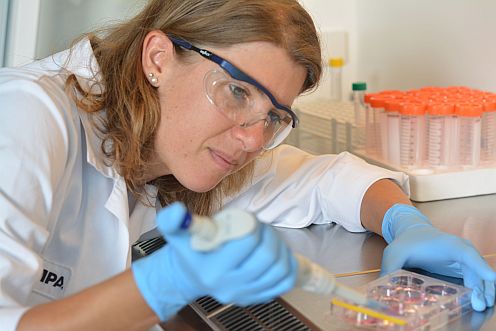 The «European Nanomedicine Characterization Laboratory» (EU-NCL), which was launched on 1 June 2015, has a clear-cut goal: to help bring more nanomedicine candidates into the clinic and on the market, for the benefit of patients and the European pharmaceutical industry. To achieve this, EU-NCL is partnered with the sole international reference facility, the «Nanotechnology Characterization Laboratory» (US-NCL) of the US-National Cancer Institute, to get faster international harmonization of analytical protocols. EU-NCL is also closely connected to national medicine agencies and the European Medicines Agency to continuously adapt its analytical services to requests of regulators. EU-NCL is designed, organized and operated according to the highest EU regulatory and quality standards. «We are excited to be part of this cooperative project between Europe and the U.S.,» says Scott E. McNeil, director of US-NCL. «We hope this collaboration will help standardize regulatory requirements for clinical evaluation and marketing of nanomedicines internationally. This venture holds great promise for using nanotechnologies to overcome cancer and other major diseases around the world.»
Nine partners from eight countries
EU-NCL, which is funded by the EU for a four-year period with nearly 5 million Euros, brings together nine partners from eight countries: CEA-Tech in Leti and Liten, France, the coordinator of the project; the Joint Research Centre of the European Commission in Ispra, Italy; European Research Services GmbH in Münster Germany; Leidos Biomedical Research, Inc. in Frederick, USA; Trinity College in Dublin, Ireland; SINTEF in Oslo, Norway; the University of Liverpool in the UK; Empa, the Swiss Federal Laboratories for Materials Science and Technology in St. Gallen, Switzerland; Westfälische Wilhelms-Universität (WWU) and Gesellschaft für Bioanalytik, both in Münster, Germany. Together, the partnering institutions will provide a trans-disciplinary testing infrastructure covering a comprehensive set of preclinical characterization assays (physical, chemical, in vitro and in vivo biological testing), which will allow researchers to fully comprehend the biodistribution, metabolism, pharmacokinetics, safety profiles and immunological effects of their medicinal nano-products. The project will also foster the use and deployment of standard operating procedures (SOPs), benchmark materials and quality management for the preclinical characterization of medicinal nano-products. Yet another objective is to promote intersectoral and interdisciplinary communication among key drivers of innovation, especially between developers and regulatory agencies.
The goal: to bring safe and efficient nano-therapeutics faster to the patient
Within EU-NCL, six analytical facilities will offer transnational access to their existing analytical services for public and private developers, and will also develop new or improved analytical assays to keep EU-NCL at the cutting edge of nanomedicine characterization. A complementary set of networking activities will enable EU-NCL to deliver to European academic or industrial scientists the high-quality analytical services they require for accelerating the industrial development of their candidate nanomedicines. The Empa team of Peter Wick at the «Particles-Biology Interactions» lab will be in charge of the quality management of all analytical methods, a key task to guarantee the best possible reproducibility and comparability of the data between the various analytical labs within the consortium. «EU-NCL supports our research activities in developing innovative and safe nanomaterials for healthcare within an international network, which will actively shape future standards in nanomedicine and strengthen Empa as an enabler to facilitate the transfer of novel nanomedicines from bench to bedside», says Wick.
Images can be downloaded here