Building for the future
"co-operate": model for climate-friendly construction
The future Empa and Eawag campus is set to become an inspiring space for new ideas and innovation, also with a view to environmentally and climate-friendly construction of the future. The buildings and facilities are full of ideas for saving or generating energy and recovering raw materials for later use – from the depths of the subsoil to the rooftops.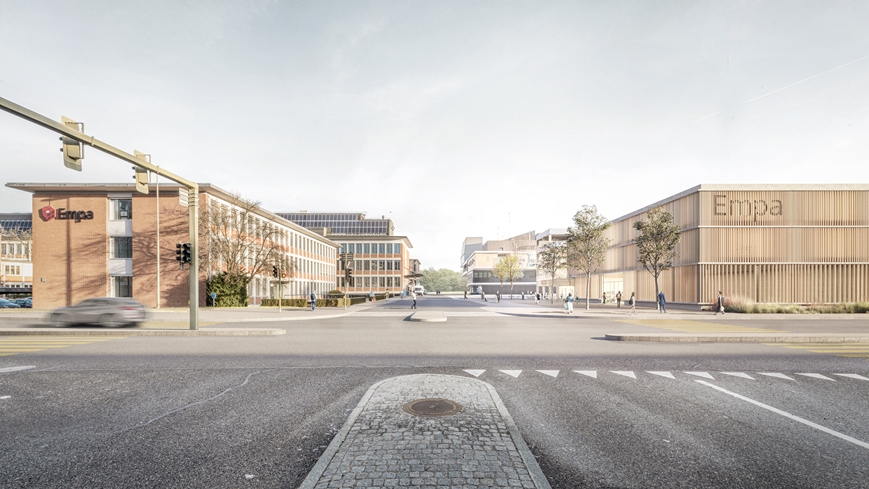 When it comes to saving resources and reducing CO2 emissions, the campus taking shape on the Empa site in Dübendorf is set to be quite a role model – from top to bottom, from the rooftops down to a depth of 100 meters below ground, where the geothermal probes of a unique experimental seasonal energy storage system end. In summer, these "tubes" will store waste heat from, for example, the chillers, ventilation systems and laboratory equipment, and then use it in winter for heating or producing hot water. The goal: to minimize CO2 emissions from buildings across the campus while exploring this innovative technology for a sustainable energy future.
Minimize greenhouse gas emissions: This aspiration also shapes the designs of the new campus. The three-story building to the right of the entrance is a unique wood-concrete parking garage, the ceilings of which are a sophisticated construction of spruce beams and slabs overlaid with concrete. This hybrid construction method allowed the thickness of the concrete layers to be reduced to around one-third, according to construction company Implenia.
Around 9,300 square meters of concrete ribbed ceilings were replaced with wooden beam ceilings – also a contribution to the current trend to replace concrete, whenever possible and sensible, to a large extent with constructions made of wood.
According to Kevin Olas, Head of "Immobilien" at Empa, one of the challenging aspects of this project was the cleverly unobtrusive installation of lighting, electrical lines and wastewater pipes, so as not to detract from the aesthetics of this sophisticated hybrid construction.
In addition, the planning also had to take future aspects into account: With a view to climate change, the parking garage was planned as a modular structure made of demountable prefabricated parts – with a view to a more distant future, in which individual mobility may play a lesser role than it does today. In that case, parts of the structure could also be converted into workshops or for other purposes.
Urine as raw material for fertilizer
In this future, environmentally friendly circular economy will also determine construction: Not only steel, concrete or wooden elements can be recycled in a climate-friendly way, but also human "raw materials". Take urine, for example: In the large laboratory building at the heart of co-operate, NoMix toilets have been installed, developed in recent years by experts from Eawag, the water research institute of the ETH Domain. Without changing the way they are normally used, they separate human urine from the so-called black water consisting of feces, flushing water and toilet paper.
Because urine contains valuable nutrients such as nitrogen, phosphorus and potassium, it can be used to produce fertilizer for agriculture. In a process specially developed by Eawag, the raw material is first stabilized by a biological process in the basement of the NEST building, thus losing its strong odor.
An activated carbon filter removes all drug residues before the liquid is finally evaporated – to produce a high-quality fertilizer called Aurin, which is marketed by the Eawag spin-off Vuna GmbH. 1000 liters of urine produce 100 liters of fertilizer, which since 2018 has also been approved by the Swiss Federal Office for Agriculture for use on edible plants.
Many pieces of the puzzle for a good climate footprint
In addition to the inconspicuous urine collection system, many obvious details document the campus' claim to be a beacon for environmentally friendly construction. Photovoltaic installations will massively increase the campus' own electricity production. And on more than 14,000 square meters, people will move on recycled asphalt with a high proportion of 80 percent recycled material in the base course and 20 percent in the thinner surface course.
At the same time, the landscape architects have freely dispensed with asphalt in order to design close to nature: Previously sealed areas are "liberated," such as Ludwig Tetmajer Street on the Empa site. "This 'asphalt desert' that had served as a parking lot will become a green and shady zone," explains Kevin Olas. And behind the large new buildings, biodiversity is also being promoted with diverse plants and trees – thanks to selected heat-resistant species that will also thrive in future climate conditions.