Interview Lorenz Herrmann
"At Empa I have got the best of both worlds"
Lorenz Herrmann has been head of Empa's Advanced Materials and Surfaces Department for around six months. In this interview, he describes areas, in which he would like to make progress with novel materials, and explains why basic research is essential for the innovation process – and how research at Empa differs from that at an industrial research center.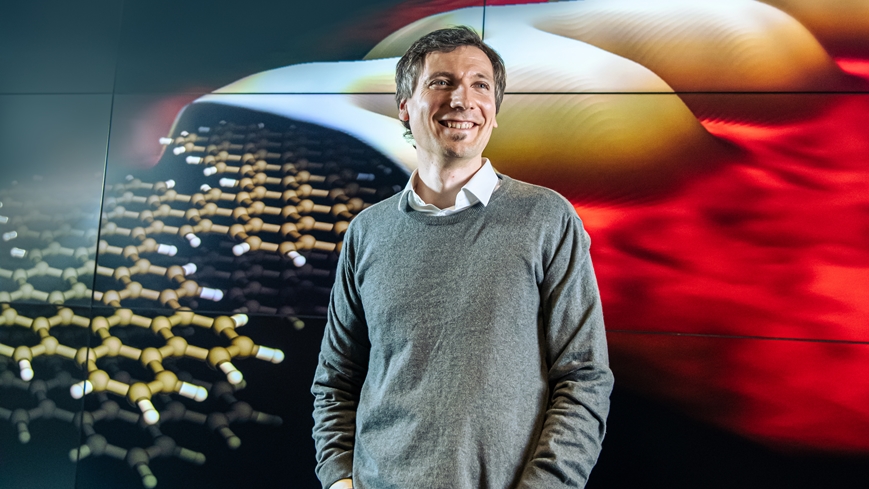 Lorenz Herrmann, as the new head of department at a materials research institute, a simple question: What is your favorite material?
That's easy: carbon.
That was fast – why this element in particular?
Carbon has been with me throughout my career: I did research in solid-state physics on mechanical and electronic applications of carbon nanotubes. Then I spent a long time in industrial research in the field of electrical engineering, where polymer insulation materials or graphite electrodes for batteries were also based on carbon. On the one hand, carbon is extremely versatile, so it is suitable for numerous applications; on the other hand, it is also extremely important in our materials cycles. Closing the carbon cycle is crucial for our environment and the climate.
How does a trained solid-state physicist like you actually end up in materials science?
I came from basic research and wanted to build a bridge to practical applications. I was extremely fascinated by energy technologies – still a hot topic today. The trigger was the DESERTEC project, which aimed at generating solar power in the desert and bring it to Europe. At that time, I looked around to see where I could combine solid-state physics, materials science, energy research and electrical engineering – that's how I ended up at the ABB Research Center, where I then worked on materials for energy transmission.
How does research at the ABB Research Center, where you were also responsible for a research department, differ from that at Empa?
There are rather few differences among the research staff. The enthusiasm, the passion for research, the interaction with each other – that's very similar at both places. Here at Empa, however, the topics are broader and we do more basic research. In industrial research, on the other hand, you're much more focused on the next generation but one of products for your own company.
What appeals to you particularly about your new role?
Up to now, I have been moving between two worlds, if you like – basic academic research and applied research in industry. Here at Empa I can bring the two together – I have got the best of both worlds, so to speak. What I find extremely fascinating about the "Empa model" is, on the one hand, the high scientific standards and, on the other, the focus on practical applications.
What role does basic research play in a research institution that describes itself as applications-oriented and close to industry?
At Empa, our ultimate goal is to create technological added value for industry and society: in other words, to develop the fundamentals for as yet unknown applications, but also to support Swiss industry in the here and now. In my experience – especially in industry – you have to do top-notch science to be able to really help companies. They don't need us for incremental developments; in fact, they can usually do that better. So you can't just duplicate "development" for a company, you really have to bring in new aspects – what you might want to call disruptive innovation. And that's exactly what companies want – something they don't have or can't do in-house themselves. This can only be achieved through first-class research. Our work is upstream of the development process, so to speak, but then it has to be transferable and applicable – that's the art.
In which fields of application do you see the greatest potential to make a difference with novel materials?
In the area of digitization, for instance, novel graphene nanostructures could provide the basis for completely new devices, with their industrial manufacturing being considered right from the outset. At the core of this development are robust quantum materials for future applications such as quantum computers and sensors. This differs fundamentally from previous approaches, in which the production and robustness of the devices tend to take a back seat and quantum physical effects are primarily investigated in model systems, often at extremely low temperatures. In the area of sustainable materials, we need to implement the recycling concept more consistently; I am thinking, for example, of polymer composites, which are difficult to recycle today. And in the field of energy, for example, I see great potential in the production of new types of cheaper solar cells, for example through simple printing processes. I also see a lot of opportunities in power-to-gas and in battery technologies.
What's the next thing on your agenda right now?
I was given a very warm welcome here at Empa, and I was very pleased about that. I initially focused on networking internally and getting to know as many topics and projects as possible. Now the focus is more on external networking with our stakeholders in industry, research, politics and the administration. And then, of course, I would like to give the first strategic impulses and help to take the above-mentioned topics a step further.
Lorenz Herrmann
After studying physics at the University of Regensburg and the Ecole Normale Supérieure in Paris, Lorenz Herrmann completed his doctorate at these two universities on carbon nanotubes and their application in nanoelectronics. In 2010, he moved to the ABB Research Center in Dättwil, where he most recently headed the Energy Technologies department. Since August 2022, he is head of the Empa department Advanced Materials and Surfaces.
---
Editor / Media contact
Dr. Michael Hagmann
Communication
Phone +41 58 765 4592
michael.hagmann@empa.ch
---
---