Empa Innovation Award for spin-off MycoSolutions
Fighting pesticides in a natural way
The use of pesticides is still widespread in Swiss agriculture – and the resulting damage to humans and the environment is immense. The Empa spin-off MycoSolutions has developed a method that enables plants and wood materials to be naturally protected without the use of toxic substances. The company has been awarded this year's Empa Innovation Award for this successful transfer from the lab to industrial innovation.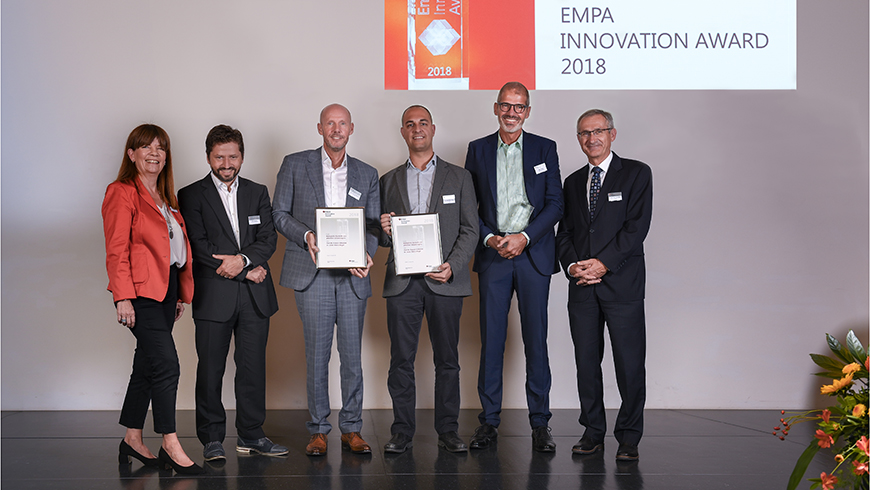 In Switzerland, around 2,100 tons of pesticides are sprayed over our fields and fruit trees every year. The consequences are numerous: Domestic flora and fauna suffer from the toxins, but customers also take up the substances when consuming treated produce. As a result, the Swiss government adopted the pesticide reduction plan in 2017. But how can it be implemented? How can seeds and crops be protected from pests if not by the use of pesticides?
The Empa spin-off MycoSolutions has a solution to this problem. The idea behind it is to introduce tailor-made beneficial microorganisms (so-called antagonists) into an ecosystem that has been infested by pests – i.e. trees and crops, but also wood products – in order to eliminate the pests in an ecologically harmless way. These antagonists can then be used in areas where pesticides may not be used at all or only in limited quantities, for instance in cities or in organic farming. MycoSolutions' patented innovation has now won the Empa Innovation Award at this year's Empa Technology and Innovation Forum (ETIF).
Organic doesn't mean free of harmful substances
Organic farming is one of the most promising ways of reducing the use of pesticides in agriculture. However, some methods are also criticized in organic farming – above all copper, which is still used as a fungicide for potatoes and vines in organic farming and for wood preservation. So far, there is no alternative, although the long-term use of copper for soil can become a burden, as copper does not degrade in contrast to conventional pesticides.
Francis Schwarze, the founder of MycoSolutions and a scientist at Empa in St. Gallen, has developed new screening methods to evaluate and select beneficial microorganisms and has already successfully used them. In collaboration with Swisscom, for example, he was able to develop an antagonist against copper-tolerant, wood-destroying fungi, which was used to protect Swisscom telephone masts. At the same time, Schwarze was able to show that the corresponding antagonist is also effective against fungi on crops. Schwarze said that biocides such as copper would continue to be indispensable in the future. «However, our studies show that, in combination with selected antagonists, significantly smaller amounts of copper will have to be added to protect against fungal pathogens.»
Switzerland: fertile ground for innovation
In the meantime, various MycoSolutions plant strengthening and fertilizer products have been approved in Switzerland and in Europe, and an application for approval of an antagonist for wood and plant protection has been submitted. These beneficial organisms are currently being tested in field trials. The Empa spin-off MycoSolutions will take care of the technology transfer to develop products; the young company has already created six new jobs in the last two years.
Francis Schwarze's spin-off is thus a perfect fit for this year's Empa Technology and Innovation Forum, which was held under the motto «Safeguarding Switzerland as a production location -- a trump card for innovation». The competitiveness of an export-oriented country like Switzerland depends to a large extent on its innovative strength – in other words, on domestic research and the resulting technologies. Transfering research results to the market is essential for Swiss companies, and the Empa spin-off MycoSolutions with its innovative products is a prime example of this bridge between research and industry.