Obituary
Former Director of Empa Deceased
Fritz Eggimann, President and CEO of Empa from 1988 to 2001, died unexpectedly on 29 September 2019.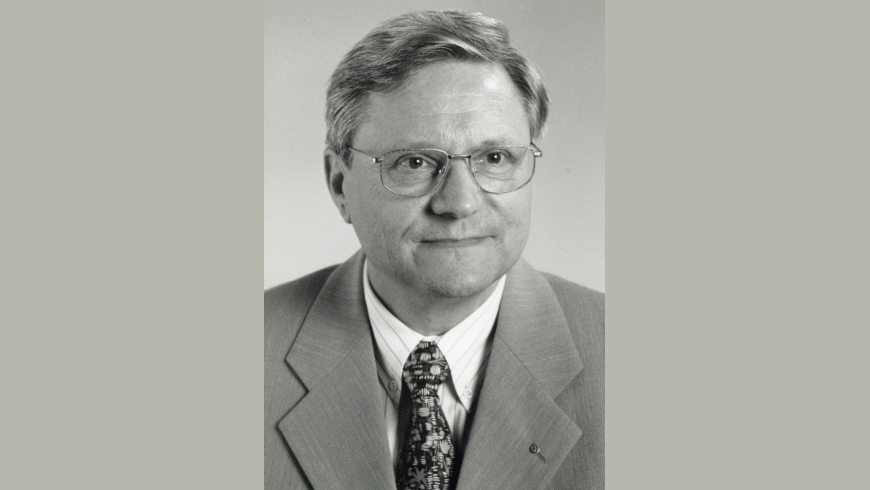 Fritz Eggimann, with his open mind and positive attitude to life, had a decisive influence on Empa during his time as Director. He was mindful of the need to delegate responsibility and provide support where necessary. Even after his retirement, he remained associated with Empa and pursued with great interest the further development towards a research institution that would initiate science-based innovations for the benefit of the economy and society.
Eggimann was born in Zurich in 1936. He studied and received his doctorate from the Department of Electrical Engineering at ETH Zurich. His doctoral thesis was awarded the ETH Medal.
On 16 March 1988, the Federal Council elected Fritz Eggimann as Empa's new President of the Executive Board and at the same time as Professor of Information Technology at ETH Zurich. He thus assumed the task of implementing the newly defined strategy - namely to transform Empa from a materials testing institute into a modern research institution. He was involved in the Empa Research Committee, ensuring that the numerous R&D projects massively improved Empa's image as a research institute.
Eggimann shaped Empa's fortunes until 2001. Numerous structural changes took place during this period: These included the integration of Empa Thun, the construction of the ceramics department, the new Empa building in St.Gallen and the "Academy" in Dübendorf.
Eggimann was also involved in quality assurance and arranged accreditations and certifications for Empa. In addition to his work at Empa, he was also involved in national and international committees. He was a member of the Research Council of the Swiss National Science Foundation and of the Commission for Technology and Innovation (CTI), the Swiss Association for Quality and Management Systems (SQS) and the Swiss Committee for Testing and Certification (SAPUZ). Eggimann has also served as President of the Swiss Accreditation Commission, Treasurer on the Board of Administrators of Eurolab and on the Board of RILEM (Réunion int. des lab. d-essais et de rech. sur les matériaux). In 1995 he was awarded the Tetmajer Medal of the Vienna University of Technology.
Fritz Eggimann retired on 1 April 2001 and handed over the management of Empa to his successor Louis Schlapbach.
It was with great sadness that we bid farewell to Fritz Eggimann, a highly respected personality who cultivated a warm-hearted relationship with all employees. We extend our sincere condolences to his wife Susanne Eggimmann and his family and wish them much strength in these difficult times.
Empa's Board of Directors