ETH Zurich awards Katharina Maniura title of Professor
Professorship for Empa researcher
ETH Zurich awarded Katharina Maniura, Head of Empa's lab "Biointerfaces", the title of Professor on 8 March 2018. Maniura and her team at Empa's St. Gallen site are investigating natural interfaces between biological materials and will continue to work on projects and teach at ETH Zurich.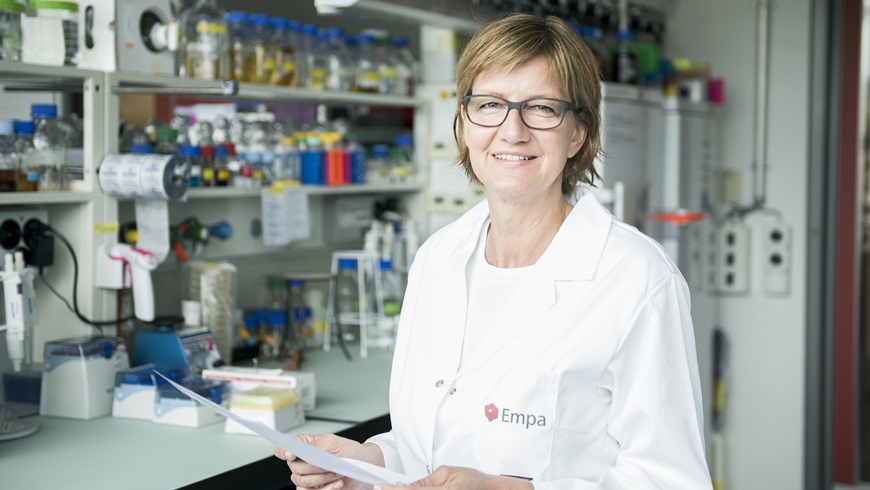 Katharina Maniura, head of Empa's "Biointerfaces" lab, was awarded the title of professor by ETH Zurich on 8 March 2018. The cell biologist has been a lecturer at ETH Zurich since 2005 and holds various lectures for Bachelor and Master students in the areas of "Biocompatible Materials" and "Principles in Tissue Engineering". Her lab works closely with researchers from the ETH Department of Health Science and Technology, a cooperation that Maniura would like to expand further in the future. For example, she regularly trains students from the department in her lab.
Katharina Maniura has been conducting research at Empa in St. Gallen since 2002, where she took over as head of the "Biointerfaces" lab in 2014. In her work, she focuses on the research and development of novel material-based health solutions. Maniura and her team investigate the natural interfaces not only of biomolecules, bacteria and human cells, but also between biological environments and materials used in biomedical engineering. The team works in numerous projects with other Empa departments on new material concepts for medical applications and represents a bridge for Empa into medicine through its intensive cooperation with various clinical research groups. Katharina Maniura will continue to work closely with hospitals and medical research centers such as "Hochschulmedizin Zürich" and "Wyss Zurich" in the future to meet the (material science) needs of clinicians and practising physicians as directly as possible.