«One Two We»: Eating sustainably at Empa
Meat alternatives at the Empa restaurant
«One Two We» is a sustainability program launched by the SV Group and WWF Switzerland. The goal is to reduce CO2 emissions of staff restaurants through sustainable food. Empa is a program partner since 2013 – and can, once again, look back on a successful year.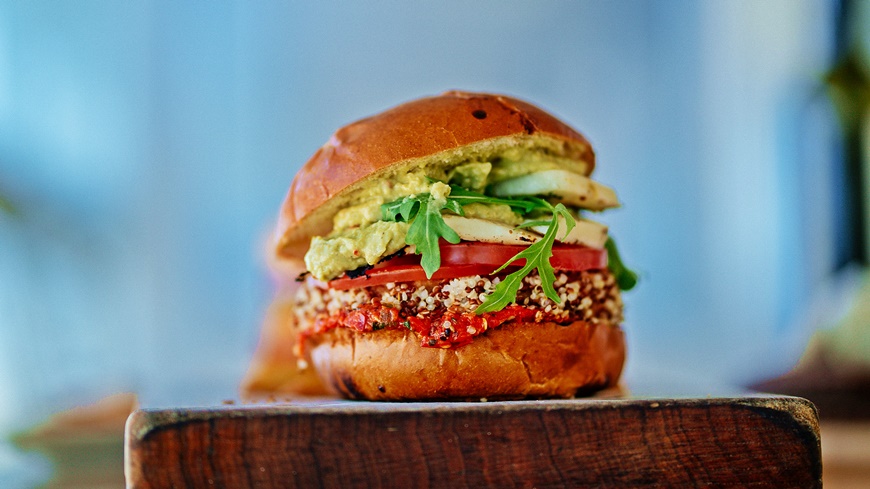 In 2019 Empa's staff restaurant once again succeeded in achieving or even exceeding various goals of the «One Two We» sustainability program. Last year, for instance, on average only 26 grams of food were thrown away per main meal. This is roughly the equivalent of two heaped tablespoons of rice. Under the motto «Save Food, Fight Waste», the problem of food waste became the focus of attention; customers now have the opportunity to buy unsold sandwiches in the evening at a reduced price.
Flight ban for food
Another important point of the program aims to reduce the amount of air cargo to a minimum. For 2019, the SV Group had set itself the overall goal of procuring only 0.28 percent of all the food it needs by air. This ambitious target was even exceeded in Empa's staff restaurant: Only 0.14 percent of all goods were flown in. With a total of almost 38 tons of vegetables and meat purchased last year, the proportion of air cargo foodstuff was just a little over 50 kilograms.
Fruits and vegetables still make up the lion's share of food. Some vegetables, such as carrots, are now 100 percent IP-SUISSE quality. IP-SUISSE farmers produce in an animal-friendly and environmentally friendly way, thus providing food of the highest quality. In 2019, in addition to carrots, quinoa and meadow milk, natural yoghurt was added to the Empa restaurant's IP-SUISSE range.
Beyond meat
In 2019, all the pork, beef, veal and turkey meat that was served in Empa's staff restaurant came exclusively from Switzerland. In the case of veal, the BTS and RAUS standards were also met to 100 percent (i.e. particularly animal-friendly housing and regular outdoor times). What's more, the trend away from meat was particularly noticeable last year. Plant-based food is the keyword. Plant-based meat alternatives were launched in the summer of 2019 and have been steadily expanded ever since. The products consist exclusively of vegetable ingredients. Their production thus causes significantly lower CO2 emissions than "real" meat. SV Group is one of the first to offer plant-based products in community catering. The vegetarian and vegan product range is now to be further expanded in order to reduce the CO2 footprint of the Empa staff restaurant even more.
---
Editor / Media contact
Dr. Andrea Six
Communication
Phone +41 58 765 6133

Follow us on Social Media
---