Hoher Besuch aus Ägypten
Illustrer Besuch in St.Gallen
Am 14. Juni 2006 besuchten uns Frau Prof. Dr. Shadia Shafic M. Aggour, Head of Chemical Engineering Department der Cairo University, und ihr Gatte M. Awny Aggour, Minister of State of Military Production, Technical Advisor des äyptischen Staatspräsidenten.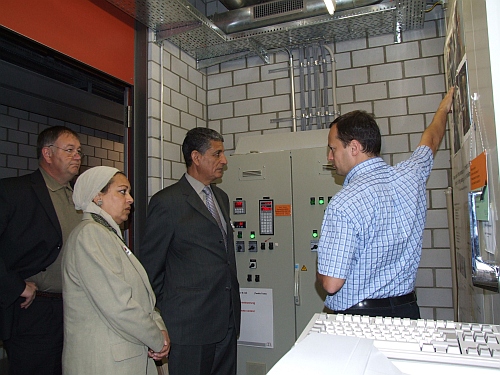 Begleitet wurden sie von Klaus Smolik, Industrie- und Handelskammer für Oberfranken, Bayreuth. Diese Handelskammer arbeitet sehr eng mit Bayern Innovativ sowie internationalen Textilnetzwerken zusammen.
Die Besucher erhielten Informationen über die Aktivitäten der Empa und des Departementes «Materialien und Systeme zum Schutz und Wohlbefinden des menschlichen Körpers». In Laborrundgängen wurden Forschungsprojekte der Abteilungen «Schutz und Physiologie» sowie «Funktionale Fasern und Textilien» gezeigt. Die anschliessende Diskussion zeigte, dass diverse Möglichkeiten für Forschungs-Zusammenarbeit im textilen Bereich bestehen.
Text: René Rossi