Information pavilion as a meeting place
The Zurich Innovation Park becomes visible
The information pavilion at the Zurich Innovation Park will be opened tonight. After many years of preparatory work at the planning and political level, a first element of the park on the Dübendorf airfield site is now visible and accessible to the general public. On Saturday, March 10th there will be an open day for the public.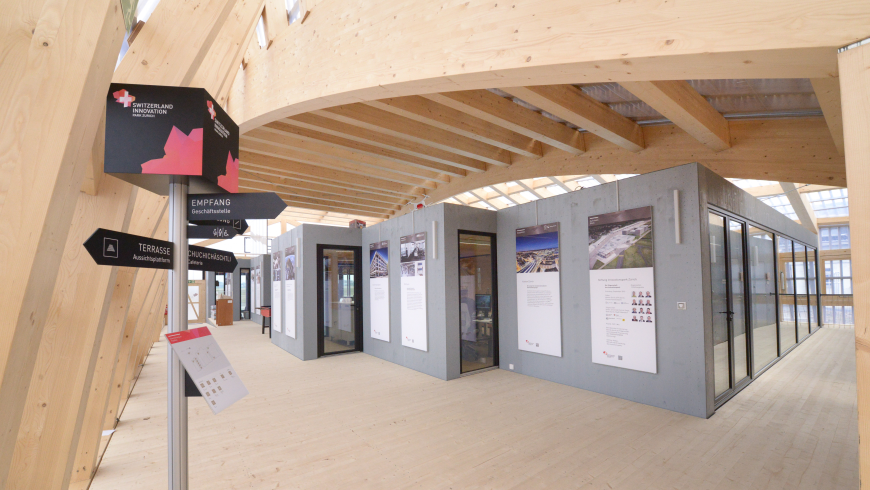 The information pavilion is intended as a lighthouse and meeting place for the Innovation Park, where science and industry will jointly develop new ideas in the future. The pavilion, designed by the Swiss timber construction company Blumer-Lehmann AG, houses not only the offices of the Zurich Innovation Park Foundation, but also a public café and an exhibition. From the roof of the pavilion, a wide view opens up towards the Alps and onto the future site of the Innovation Park.
A generational project slowly taking shape
With the opening of the information pavilion, the generational project Innovation Park Zurich stands on the threshold from the planning to the realisation phase. In a first step, existing military hangars will be reused and the first companies and research units in the fields of robotics and mobility (including autonomous vehicles) of ETH Zurich will move in this year. After completion of the ongoing planning procedures and the military's relocation to the northern part of the airport, the first new buildings are planned on the construction sites in front of the existing hangars. Further planned focal topics at the Zurich Innovation Park include aerospace (University of Zurich) and advanced production technologies (Advanced Manufacturing - Empa), which are already the subject of intensive research at both institutions.
Click here for the media release of the Swiss Innovation Park Zurich Foundation.