Cooperation in environmental science and technology
Two scientific cooperation agreements signed
On 14 and 17 March 2005 Empa signed two scientific cooperation agreements with partner universities in developing countries. Cooperation will focus on environmental science and technology. The Technology and Society Laboratory's sustec group took the lead in selecting the universities and conducting the groundwork. The agreements have been signed with two first-class universities in Empa's longstanding partner countries Columbia and Peru.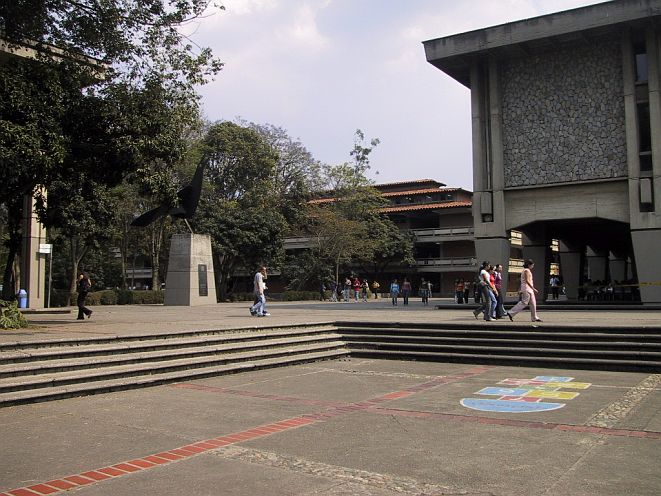 The key partners at Empa are various groups affiliated to the Technology and Society Laboratory, primarily ISM, LCA and sustec.
A cooperation project focusing on the Spatial Modelling of Pollutant Emissions in Latin American Cities was launched with the Pontificia Universidad Católica del Perú (PUCP) in Lima on 14 March 2005. Another joint project between PUCP and Empa, Life Cycle Assessment of Gold Mining in Peru, started in 2004 and will shortly be completed. The cooperation agreement that has now been signed is intended to deepen research work and bring focus to its content. It also provides a framework for submitting a project to the Swiss National Science Foundation and the Swiss Agency for Development and Cooperation as part of efforts to promote research cooperation with developing countries. PUCP is a private university founded in 1917. It currently has around 16,000 students in 9 faculties, 43 majors and over 1,300 postgraduates. It enjoys an excellent reputation in Peru and other Latin American countries. With Beat Loeliger, the Swiss Ambassador to Peru, looking on, the agreement was signed by PUCP's Vice Chancellor, Luis Guzmán Barrón Sobrevilla, and Empa's Xaver Edelmann in a fringe event at a scientific seminar.
Empa also signed a cooperation agreement with the Universidad de Antioquia (UdeA) in Medellín, Columbia, on 17 March 2005.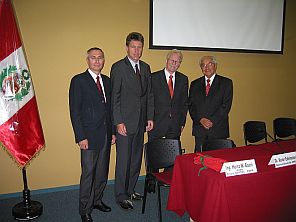 Left to right: Ambassador Beat Loeliger, Heinz Böni, Xaver Edelmann, Vice Chancellor Luis Guzman Barrón Sobrevilla
The agreement was signed by UdeA's Vice Chancellor, Alberto Uribe Correa, the Director of the Cleaner Production Center, Carlos Arango, and Xaver Edelmann from Empa at the Cleaner Production Center's annual meeting. The meeting also afforded Empa an opportunity to look back on 7 years of existing cooperation. Joint research activities will focus on renewable energies, particularly deriving energy from biomass.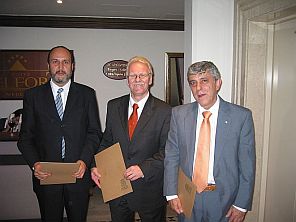 Left to right: Carlos Arango, Xaver Edelmann, Vice Chancellor Alberto Uribe Correa
The Universidad de Antioquia was founded in 1803. 30,000 students are currently enrolled in 80 Bachelor's courses and 120 Master's programmes, including nine Doctoral degree programmes in various research fields. In a recent nationwide survey by Colciencias, Columbia's scientific promotion agency, the Universidad de Antioquia emerged as one of the country's top universities with the highest level of research excellence.
For further information please contact: Heinz Böni, Technology and Society Laboratory,
tel. +41 71 274 78 58,