Electrospinning ultra thin polymer fibers
Spinning the finest fibers
Empa scientists have succeeded in constructing a spinning apparatus which is capable of producing polymer fibers with diameters in the nanometer range. The fibers and the machine that creates them will be on display and working at the NanoPubli stand at the Olma Fair in St. Gall from 13th to 15th September.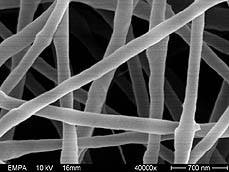 The polymer fibers produced
by the electrospinning technique are
just a few nanometers in diameter.
They are particularly suitable for
manufacturing special filters, and
substrates for the growth of human tissue


Carbon nanotubes are the words on everybody's lips these days. It doesn't always have to be carbon, though. Polymer structures can also be created with nanometer dimensions – nanofibers and nanotubes. Such nanostructures are of immense interest for a large number of practical applications because of their outstanding properties. For example, nanostructures have a very large surface to volume ratio, which lends them unusual mechanical, electronic and magnetic characteristics. Examples of applications for which nanostructures are ideal are special filters for gases and fluids, and substrates for encouraging the growth of human tissue such as skin or bone.

Continuous polymer fibers with diameters down to a few nanometers can be manufactured using electrospinning methods, but the product is usually in a disordered form. Empa researchers and technicians have therefore constructed a new spinning apparatus to improve this situation

Electrospinning: An electric field accelerates the jet of polymer solution, which follows a spiral trajectory and is elongated enormously. The nanometer thin fibers collect on the counter electrode with a velocity of up to 100 meters per second.

Accelerated, spun and stretched

In the elecrospinning process, a high voltage is maintained between the spin nozzle and a counter electrode. The material to be spun, in the form of a solution, is forced under pressure through the nozzle, which is 400 to 700 microns in diameter.

If the electric field is strong enough to overcome the surface tension of the emerging liquid, it is pulled into a fine jet that is accelerated towards the counter electrode, spun in the air and thereby drawn into long fibers. The solvent evaporates and the fibers collect on the counter electrode with a velocity of up to 100 meters per second.

Although it sounds simple in principle, in reality the spinning process is quite complicated. Numerous parameters influence the process, including the concentration of the solution, the dielectric constant of the solvent, the strength and shape of the electric field and environmental conditions such as the relative humidity of the air. It demands experience and skill from the experimenter to adjust the process parameters so that fibers form and not just droplets, and on top of this for every new material a new set of optimal parameters must be established.

Filter systems for medicinal applications

To date the Empa researchers have been able to successfully spin a number of polymers and other materials including polyamide, polyethylene oxide, polyvinyl pyrrolidone and wool protein in combination with polymers. The latter material can be used as a biocompatible substrate on which to grow cells.

The current scientific task is to establish the optimal layout and operation of the apparatus in order to be able to spin fibers with complete control. A further aim is the manufacture of filters for medicinal applications, and for this purpose filter materials are given an additional coating of nano fibers. The electrospinning process is particularly suitable for this application since it takes place at room temperature. Heat -sensitive active agents can thus be directly mixed into the fibers that are then coated onto the filter materials.

Author :
Dr. Bärbel Zierl, Communikation und Marketing, +41 44 823 49 09, baerbel.zierl@empa.ch

Contact:
Dr. Giuseppino Fortunato, Functional Fibers and Textiles, +41 71 274 7677, giuseppino.fortunato@empa.ch
NanoEurope 2005, 13.-15. September 2005
Messe für Produkte und Innovationen in Nano- und Mikrotechnologie
Konferenzen - Innovationen für Wissenschaft und Forschung. Trends in industriellen Anwendungen. Investitionen in Nanotechnologie
www.nanoeurope.com
NanoPubli - Sonderschau im Rahmen der NanoEurope mit veranstaltet von der Empa
Hochleistung dank Nanowerkstoffen, Oberflächen mit Nanoeffekten, Die Natur als Ideengeberin für Nanowerkstoffe, Blick in die Welt der Atome und Moleküle, Nanostrukturierte Bauteile – eine Herausforderung, Faserentwicklung und Nanotechnologie.
Termin/Ort 13.–15. September 2005, Olma Messen St. Gallen
Öffnungszeiten Di/Mi: 9 bis 18.30 Uhr, Do: 9 bis 17 Uhr
Shows

Di: 9.30, 11.30, 13.30, 15.30 und 17.30 Uhr
Mi: 9.30, 11.30, 13.30, 15.30 und 17.30 Uhr
Do: 9.30, 11.30, 13.30 und 15.30 Uhr

Der Eintritt ist frei. Veranstalter: Empa und NanoEurope
Mehr Infos auf: www.nanopubli.ch