Celebrating 50 years of "Sendung mit der Maus"
The mouse at NEST
On Sunday, 7 March 2021, the "Sendung mit der Maus" celebrates its 50th birthday. For the anniversary edition of the most successful children's show on German TV, Armin Maiwald, anchorman from the very beginning, visited NEST at Empa in Dübendorf. The topic: How is the construction of the future going to be circular?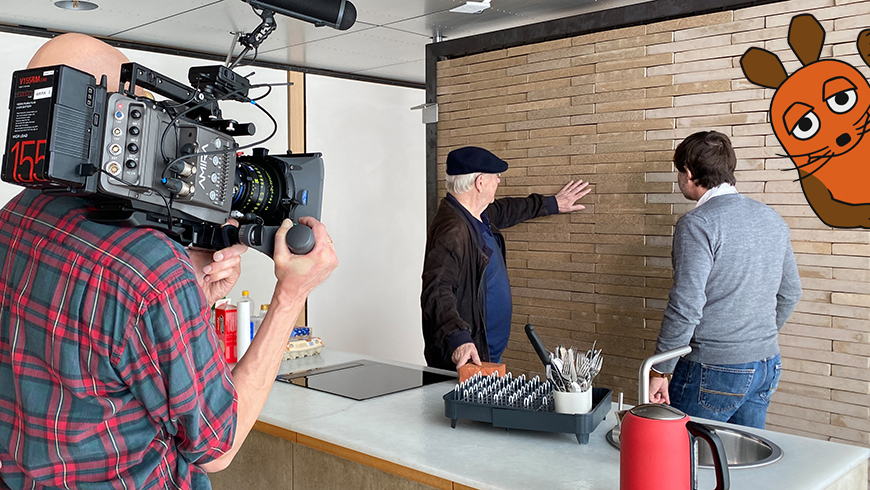 The mouse and the elephant have influenced generations of kids and have long since become cult. For 50 years, they have greeted young TV viewers every Sunday morning, making them laugh and imparting all kinds of interesting facts. An important part of the children's program are the "Sachgeschichten" – invented by Armin Maiwald and first broadcast on 7 March 1971. Even after 50 years, the TV host, director and producer is still on the lookout for exciting phenomena, which he brings closer to his TV audience in an understandable way.
How to build with waste?
For the birthday edition of "Sendung mit der Maus," Maiwald and his film crew traveled all the way to Dübendorf to pay a visit to NEST. The "Urban Mining & Recycling" unit in particular aroused the interest of the now 81-year-old. After all, how can we build in the future without consuming more and more resources? How can we turn waste into new building materials? And what does a home look and feel like that is practically completely recyclable? Armin Maiwald, with the support of Enrico Marchesi, Innovation Manager at NEST, will answer these and other questions in the anniversary show on 7 March 2021.
The "Sendung mit der Maus" will be broadcast at 9 a.m. on ARD and at 11:30 a.m. on KiKA. Thereafter, the show can be viewed online.