Research cooperation with Korea
Partnering up for sustainable buildings
Empa and the Korean Institute of Civil Engineering and Building Technology (KICT) are committed to working together for a sustainable and networked society. The joint research activities will focus on smart buildings and the sustainable use of natural resources and energy.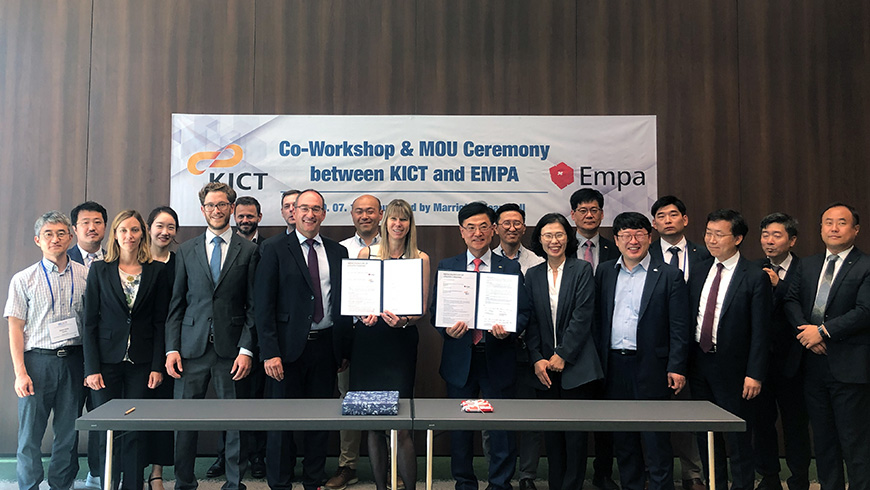 Global challenges call for global cooperation: By signing a Memorandum of Understanding (MoU) at the Europe-Korea Conference on Science and Technology 2019 in Vienna, Empa and KICT declared their intention to launch joint research efforts in the coming months. The focus will be on issues such as: What role do buildings play in a sustainable energy system? How does the construction industry counter the scarcity of resources? How must our building stock react to demographic change?
These and similar questions are of equal concern to both institutes. Both KICT and Empa do not limit themselves to research activities, but try to implement new ideas as fast as possible in demonstration buildings and platforms. On the Empa campus in Dübendorf, the research and innovation building NEST, the energy research platform Energy Hub (ehub), the mobility demonstrator move and the digital equivalent of these three demonstrators – the Digital Hub (dhub) – have been established in recent years. At the same time, the Modular House and the Zero Energy House were built at KICT. The former explores the possibilities of modular prefabrication, and the latter serves the further development of energy-saving technologies and the sustainable production of electricity in buildings. The KICT Smart Healthy Home research program is also investigating the potential of smart home solutions and artificial intelligence (AI) for the living together of all age groups.
Global exchange of knowledge and experience
Through this cooperation, both research institutes hope to benefit from each other's knowledge and experience. "We look forward to working with KICT and are convinced that global challenges can best be met with a global exchange of knowledge and experience," says Tanja Zimmermann, member of Empa's Board of Directors. The head of Empa's Functional Materials department signed the MoU in Vienna on 17 July together with KICT President Seung Heon Han. At a workshop during the conference, researchers of the two institutes already developed initial ideas for joint projects. In the coming months, these ideas will now be pursued further.