Magazine for Research and Innovation
As of now EmpaNews also published in English
Empa has taken off – from 7 to 8 July, the "Solar Impulse" aircraft successfully made its first night flight, and the pilot, André Borschberg, was "wrapped up" almost completely in Empa technology. His suit, designed for both protection and comfort, along with the matching seat, were developed by Empa researchers especially for this showpiece project to protect Borschberg as well as the second pilot and co-initiator Bertrand Piccard from the extreme conditions in the cockpit.
We hope you will enjoy reading our magazine!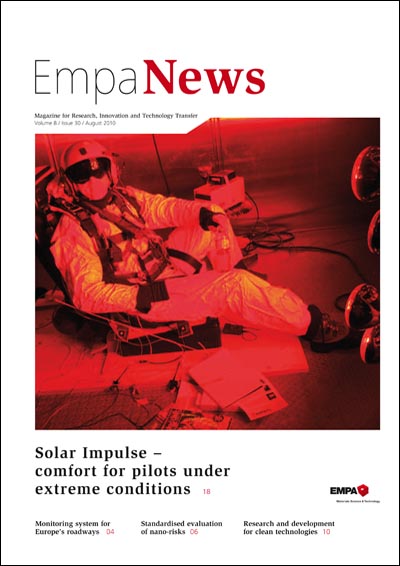 Further Information: PDF of the article
Focus: Cleantech - clean technology
The Solar Impulse team is pursuing a lofty goal – to put renewable energy in the spotlight and thus get the general public to rethink their ideas so that we preserve some of our natural resources for future generations.
That's why Piccard and his team fit perfectly into the Focus section of this latest edition of EmpaNews. This section is dedicated to Cleantech, in other words the clean technologies of tomorrow which will have the least possible impact on the environment and will help to preserve natural resources. Because one thing is certain – we can't continue to do "business as usual".
Further Information: PDF of the Focus
---

And also in this issue:

Research and Development
Complete issue as PDF (1184 kB)
---