Empa's Annual Report 2019 now online
We hope to lead you on a gripping journey through the world of research and innovation; you may be surprised at how broad the term "applied research" is defined at Empa.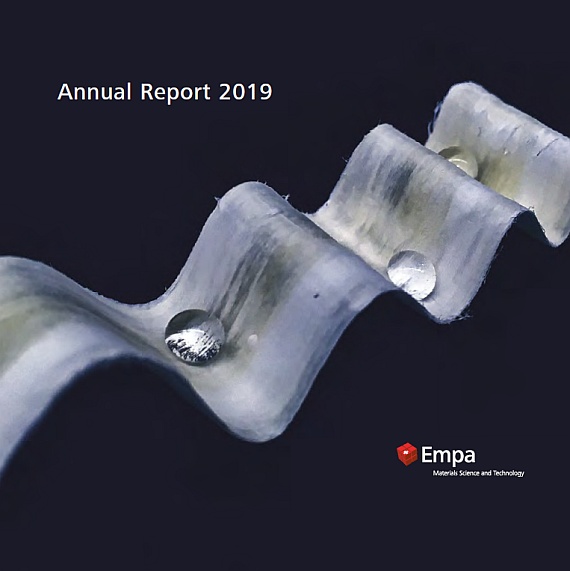 Empa's role in the innovation process
In April 2019, an international Expert Committee evaluated the six institutions of the ETH Domain. This was an excellent opportunity for us at Empa to reflect on and sharpen our role in the innovation process and our uniqueness in the Swiss research landscape. Let me say it in advance: our international peers highlighted the outstanding quality of the ETH Domain as a whole and acknowledged its achievements, but also made a number of recommendations for further development.
Empa's positioning within the ETH Domain as "the place where innovation starts" is reflected, among other things, in our byline: Materials Science and Technology. This is because groundbreaking innovation is, on the one hand, based on scientific excellence, but on the other hand, also requires a holistic approach that combines basic research with practical applications to solve real-world problems. At Empa, we live this principle by bringing to-gether highly diversified scientists and engineers from a wide range of disciplines in small, powerful teams.
The numerous research and innovation projects lead to a continuous expansion of our know-how – and thus to the development of an "institutional" memory, which often repre-sents a decisive added value in the many long-term collaborations with our partners from industry. After all, the path from discovery to the implementation of technological innova-tions often takes between 10 and 20 years, hence, scientific continuity is key.
By bringing together partners from research and industry, Empa scientists play a crucial role in the innovation process in Switzerland. This is the basis of our leading position in ap-plications-oriented research and technology transfer, and it is precisely in this way that Empa distinguishes itself from Swiss universities with their focus on research and academic education.
A core element here are our knowledge and technology transfer platforms such as NEST, move, the Coating Competence Center and the Empa-led initiative on Advanced Manufac-turing (AM; see p. 22 ff.), all of which are based on Empa's five Research Focus Areas (see p. 32 ff.). In these major projects, which act as a kind of beacon, our researchers work hand in hand with their partners from industry and the public sector – a network of more than 1,100 partner institutions – to accelerate the innovation process in various sec-tors, which are of central importance to our country. Only in this way can we offer real added value to our society and our economy with its numerous SMEs.
This approach is tailored to Switzerland's economic ecosystem and can be applied to a wide range of topics, from our built environment to energy and mobility all the way to medical technologies. At the interface of science and business, we want to anticipate and tackle both challenges and opportunities. For it is above all at the interfaces between vari-ous disciplines that new and surprising things are emerging.
Prof. Dr Gian-Luca Bona