NanoPubli – a special show in connection with NanoEurope in St. Gallen
Welcome to the world of atoms
From 13 to 15 September, Empa and NanoEurope will be giving public a chance to find out about the latest trends in nanotechnology at the NanoPubli show at the Olma trade fair in St. Gallen.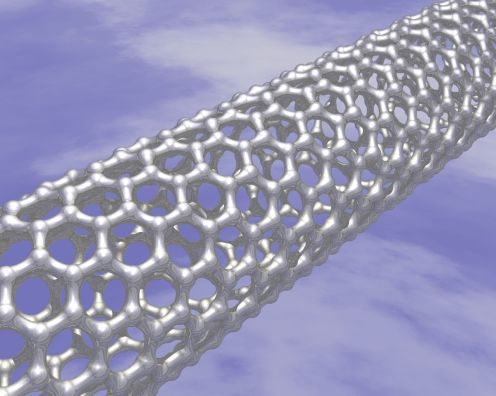 Diagram of a single-wall carbon nanotube. With a diameter of between 1 and 50 nm, nanotubes are about 20,000 times thinner than a human hair.
Once-futuristic visions such as dirt- and water-repellent car bodies, non-creasing, antibacterial textiles, and self-cleaning baking trays in the kitchen have now become reality thanks to nanotechnology. At NanoPubli in St. Gallen, Empa and its partners at universities and in industry will be presenting a whole host of products from the nano world. Visitors will learn interesting facts about the advantages of this new technology, but also its limits.
Empa, the materials sciences and technology research institution in the ETH domain, will also be providing information about new scientific findings. Employees will be presenting their work at NanoPubli, bringing the subject alive with exhibits, presentations and experiments. They will show how researchers produce minuscule wires and tubes in their laboratories and how they enhance the properties of bone implants, house facades or tools with wafer thin coatings. But visitors will also be able to experience nano at first hand: they can let nano powder trickle through their fingers, touch nano coatings and discover the lotus effect. They will also have the opportunity to look into the world of atoms themselves and to talk to the experts.
Theme show with fascinating experiments
One of the highlights of NanoPubli are the regular shows dealing with the world of nanotechnology. Empa will be presenting this complex subject in a straightforward and comprehensible, but also entertaining, manner using a combination of experiments and explanations to put the subject matter across to the general public. An informative film about the potential uses of nanotechnology will also be shown in a small cinema.
Nanotechnology opens up totally new avenues for technical development and is therefore seen as one of the key technologies of the 21st century. "Nanotechnology will change our lives in the same way that microtechnology did in the 20th century", says Heinrich Rohrer, who won the Nobel Prize for physics in 1986. The object of NanoPubli is to give interested members of the public a closer insight into this trendsetting technology. Admission to NanoPubli and to the shows is free of charge.
Author
Oliver Estermann, Empa Communications, (+41) (0)44 823 43 96,
Contact
Carmen Siegenthaler, Symposia, (+41) (0)71 966 79 30,
Walter Muster, Department Head at Empa, (+41) (0)44 823 41 20,
NanoEurope 2005, 13.-15. September 2005
Messe für Produkte und Innovationen in Nano- und Mikrotechnologie
Konferenzen - Innovationen für Wissenschaft und Forschung. Trends in industriellen Anwendungen. Investitionen in Nanotechnologie
www.nanoeurope.com
NanoPubli - Sonderschau im Rahmen der NanoEurope mit veranstaltet von der Empa
Hochleistung dank Nanowerkstoffen, Oberflächen mit Nanoeffekten, Die Natur als Ideengeberin für Nanowerkstoffe, Blick in die Welt der Atome und Moleküle, Nanostrukturierte Bauteile – eine Herausforderung, Faserentwicklung und Nanotechnologie.
Termin/Ort 13.–15. September 2005, Olma Messen St. Gallen
Öffnungszeiten Di/Mi: 9 bis 18.30 Uhr, Do: 9 bis 17 Uhr
Shows

Di: 9.30, 11.30, 13.30, 15.30 und 17.30 Uhr
Mi: 9.30, 11.30, 13.30, 15.30 und 17.30 Uhr
Do: 9.30, 11.30, 13.30 und 15.30 Uhr

Der Eintritt ist frei. Veranstalter: Empa und NanoEurope
Mehr Infos auf: www.nanopubli.ch