Laboratory for Thin Films and Photovoltaics
Our mission is to develop next generation of high-performance thin film solar cells, batteries and opto-electronic devices, novel functionalities and applications for affordable energy-sustainable future with the aim to provide impactful solutions for the benefits to industry and society.
The core competences of the Laboratory are:
High-efficiency thin film solar cells based on chalcogenide (CIGS, CdTe, CZTS) and organometal perovskite absorbers, both on rigid and flexible substrates, where the Laboratory holds several world records for highest conversion efficiencies;

New materials and architectures for battery technologies such as Mg- or Al-based batteries for stationary storage of electricity and all-solid-state battery with high energy and power densities;

Synthesis of nanocrystals using inexpensive solution growth methods, which find applications as bright luminophores or nanocrystalline electrode materials for multivalent batteries;

Successful technology transfer of innovations to Swiss and European industries, e.g. the proprietary CIGS photovoltaic technology has been up-scaled to a full industrial production line by Flisom AG.
Laboratory for Thin Films and Photovoltaics forms a strong alliance with the group "Functional Inorganic Materials" at ETH Zürich headed by Prof. Dr. Maksym Kovalenko.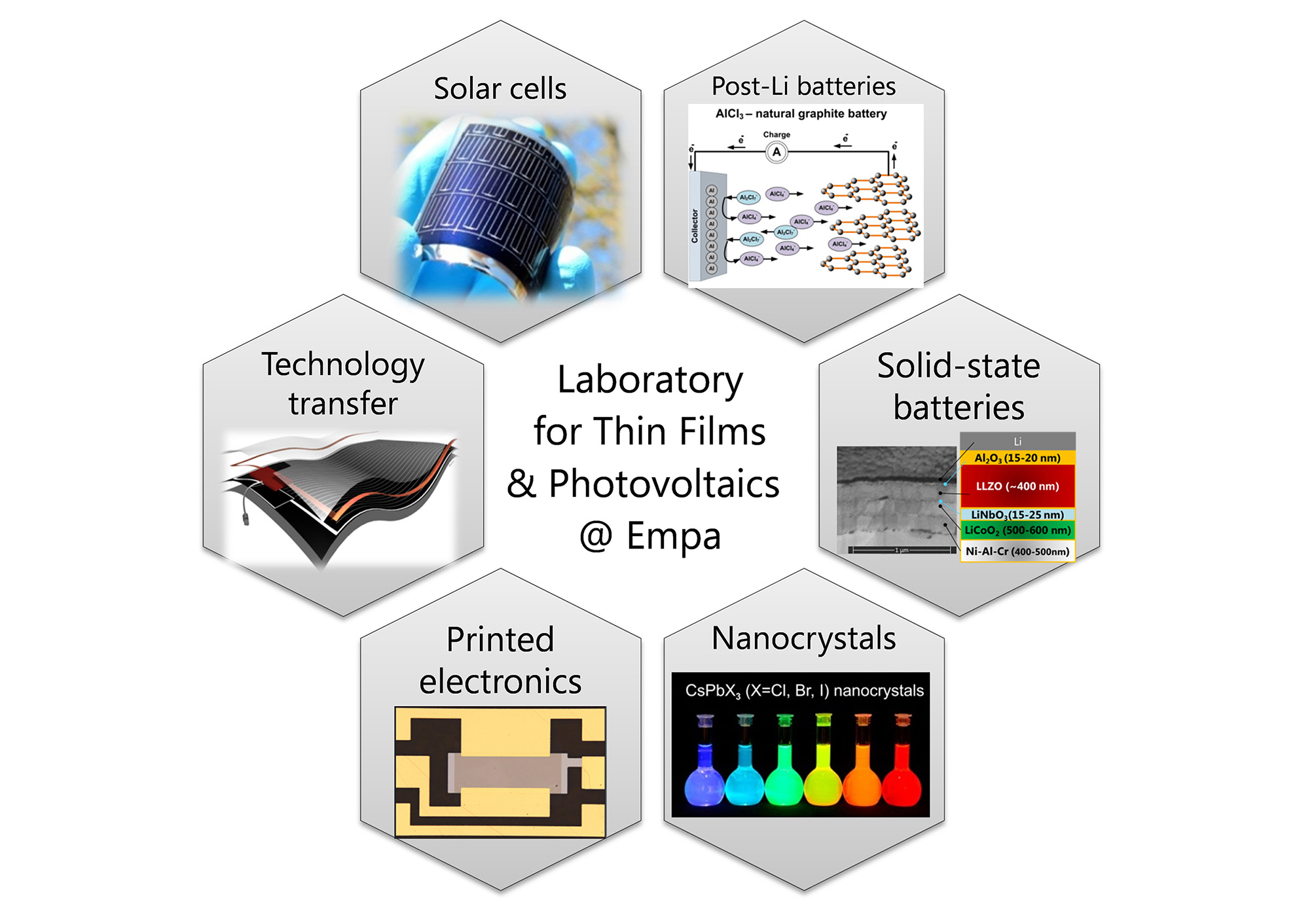 ---
News
The Laboratory just opened positions for a PhD and for a Post-doc in the field of thin films photovoltaics.
Ramis Hertwig won a poster award at the virtual E-MRS Spring Meeting 2022, May-June 2022.
New record - 21.4% efficiency for CIGS on flexible polymer substrate, September 2021.
PhD student Sami Bolat recieved Best poster prize at Swiss NanoConvention 2021, June 2021.
Dr. Evgeniia Gilshtein received Best image award at Swiss NanoConvention 2021, June 2021.
Transparent printed keyhole is a new security level, March 2021.
Poster award for Ramis Hertwig at the Virtual Chalcogenide PV Conference 2020, May 2020.
The Transistor out of the Printer by CCC and Lab207, September 2020.
Ceramic thin films for mini batteries, September 2020.
PhD student Sami Bolat is a winner of IEEE Electron Devices Society PhD Student Fellowship, December 2019.
Dr. Evgeniia Gilshtein received Best poster prize at the 5th Swiss e-Print Conference, September 2019.
New record for flexible thin-film solar cells is set!
Prof. Maksym Kovalenko awarded Rössler Prize for his research on bright nanoparticles, June 2019.
Dr. Fan Fu received ETH Medal for his doctoral thesis, January 2019.
For more information visit Recent News!